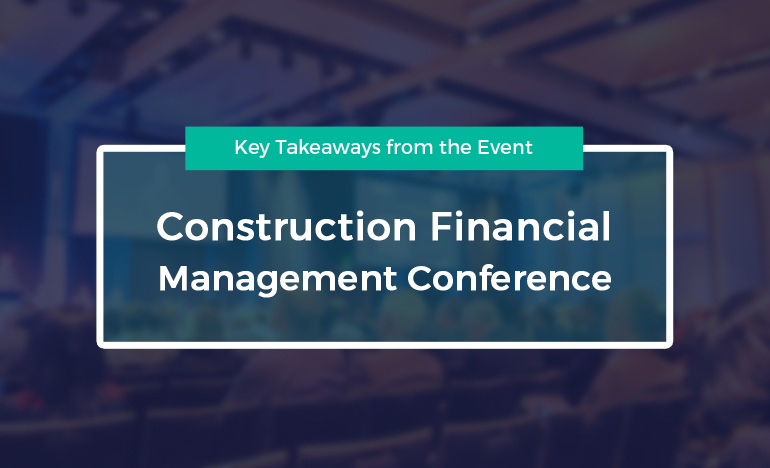 The Construction Financial Management Conference is one of the premier events jointly sponsored by the Associated General Contractors of America (AGC) and the Construction Financial Management Association (CFMA).
The conference is explicitly organized for financial professionals in the construction industry, with a vision for them to interact with and address situations uncommon to the industry.
This year, construction company owners, CFOs, controllers, CPAs, auditors, consultants, bankers, sureties, and legal professionals were all part of this conference.
This year's conference sessions covered a wealth of in-depth knowledge for you to apply to your organization, from tax, accounting, cyber risk, and financial fraud to environmental and social governance.
In this blog, we'll be sharing a few glimpses of the conference agenda that was covered by top industry speakers:
1. Lauren Abeyta, Founder & COO at Construction Discovery Experts
Lauren Abeyta has been in the industry for more than 19 years and is passionate about diving headfirst into each case and working alongside attorneys.
She discussed how incorporating legal strategies into project management can save construction companies' resources, focused on the importance of documents, and emphasized why contractors should ask the right questions early to save millions in litigation costs.
2. David Allison, CCIFP, CPA, Chief Administrative Officer at Crossland Construction Company, Inc
With 30 years of experience in public accounting, David handles strategic and financial leadership for the family enterprises, including HR, IT, corporate finance, accounting, and tax, enterprise risk management, and internal support.
He discussed the biggest trends and risks financial managers face in today's challenging environment. He also emphasized how leading firms deal with supply chain and material price escalations, managing through a recession, the changing risk profile in our industry, and more.
3. Kathy Cole, Founder and President at DK Cole Company
Kathy has more than 20 years of construction recruiting experience and has been an active CFMA member since 2005. Kathy is a Past President of the Chicago Chapter and serves as Vice Chair of CFMA's Chapter Resource Committee.
She emphasized both successful and not-so-successful hiring processes and compensation programs in the construction industry. She also highlighted how the success of construction companies relies on attracting and retaining talent.
4. Jason A. Myers, CPA, National Industry Leader of the Construction & Real Estate Practice at FORVIS
Jason Myers has extensive experience providing assurance, accounting, and consulting services to both public and private companies. He explained recent developments regarding leases and revenue recognition.
He also incorporated current hot topics in the construction industry into the conversation. He shared how contractors can recognize the benefits of proactive exploration of discussed topics.
Conclusion
ProjectPro covered this event like always to keep our construction clients up-to-date with the recent technological trends in construction accounting. We hope the above-mentioned meeting agenda, discussed by professional industry speakers, may help you revise your existing business strategies efficiently.