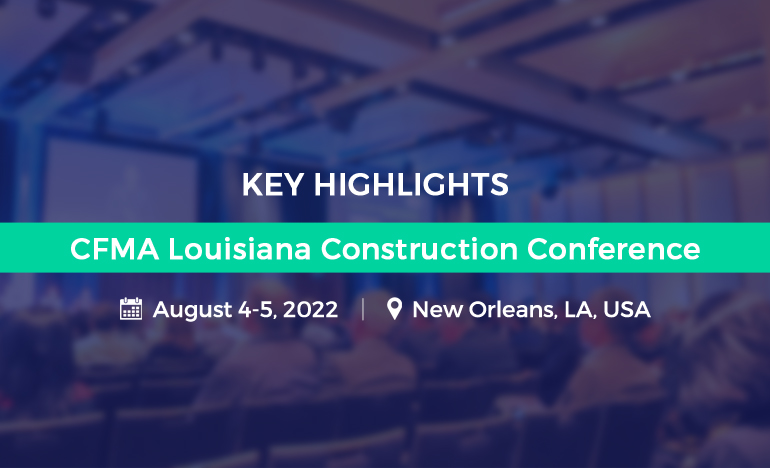 The 19th Annual CFMA Louisiana Construction Conference was organized for CFOs, controllers, financial managers, banking and financial service professionals, insurance professionals, and other construction industry specialists. This conference was one of the best networking and educating experiences for construction managers.
The conference spotlighted some trendy matters such as compensation, technology, leadership, project management, financial and tax updates, risk management, and other trends. Here are some key takeaways from this year's conference.
1. JOHN KILLINGSWORTH, ASSOCIATE PROFESSOR - COLORADO STATE UNIVERSITY
He discussed the fundamental process of determining Earned Value for construction projects. He shed some light on how project-level variables influence the earned value and how to calculate the Scheduled Performance Index and Cost Performance Index. Furthermore, the presentation also included analytic results from poor-performing and high-performing projects.
2. CAROLYN PURWIN RYAN, PARTNER - MULLEN COUGHLIN
The presentation on Understanding Cyber Risks and Ransomware by Carolyn focused on the volume and frequency of cyber attacks that continue to grow with the addition of information technology and how it is impacting construction organizations of all sizes. The session focused on the importance for construction companies to be aware of the cyber risks their companies face daily.
3. ROB MCKINNEY, CO-FOUNDER - CONTECHCREW PODCAST & CONTECHROADSHOW
Rob covered the best of what's available in mobile apps for the industry and how to make it work with your company's current processes, budget, and technology.
4. BRIAN RIGGS, CEO - RIGGS ENTERPRISE
The day ended with a knowledgeable session by Brian Riggs and other speakers on four critical areas of individual and organizational change, including what new skill sets may look like and how to embark on a journey of personal growth while contributing to corporate growth.
ProjectPro had the opportunity to cover the event and bring some profound insights to our audience. We believe that several contractors around the globe can revamp their strategies and make use of technologies smartly. We hope this blog will help you make impactful and profitable decisions for your construction company.