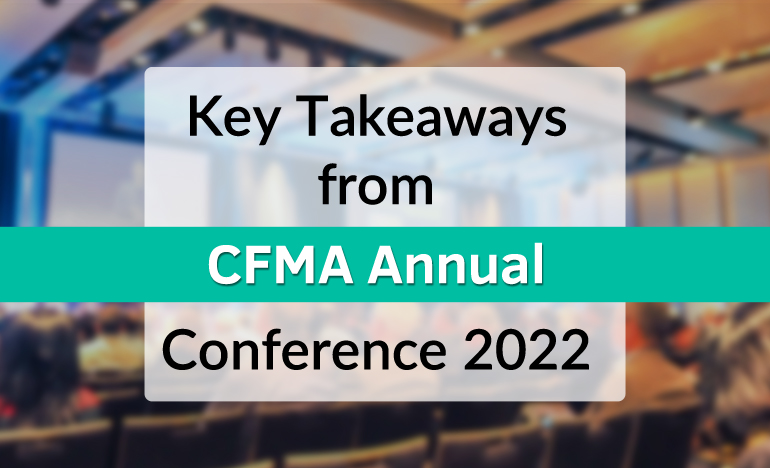 After the pandemic, CFMA was back with an in-person Annual Conference in Atlanta for construction experts across the US. It was a five-day event that opened the door of knowledge and opportunities. This annual event was led by industry experts and approximate 1100 attendees came together to share their experiences.

Team ProjectPro had a great time at the CFMA Annual Conference by catching up with professionals in-person after two long years.
The Agenda of CFMA Annual Conference included:
Identifying red flags in the construction industry

Evolving construction technology and its impact on sector

Analyzing general project risks and achieve success

Managing accounts and taxes for construction projects
Let's dive into the highlights of the key sessions of Annual Conference by top industry speakers:
1. Justin Admas
Justin Adams, CCIFP, MBA, ME, is a Regional Controller at Granite Construction in Central California. With over 28 years in this career, he has been involved in nearly every aspect of operations. He shed some light on growing Power BI in the construction industry to achieve success with razor thin margins.
2. Joe Bazzano
Joe Bazzano, CPA, is the COO of Beacon Exit Planning. He has over 30 years of experience in public accounting, valuation, and exit strategies for mid-sized to big companies. His focus is on the exit process of internal and external exits through case studies of the same company/valuation using different strategies. His session was really helpful for managing construction taxes efficiently.
3. Dwight Bailey
Dwight Bailey decided years ago to pursue his idea of improving the quality of leadership effectiveness in individuals and organizations. He believes that no one consciously commits to mediocrity; however, many organizations fail to achieve their full performance potential. In his session he discussed employee innovation, responsiveness, and collaboration in the construction industry.
4. John Bieber
John Bieber is the Chief Financial Officer for National Glass & Metal Co., Inc. an architectural metal and glass contractor. He had a roundtable session for specialty trade contractors to discuss and share various aspects of project kickoff and financial management of projects from the start. He shared some best practices on what subjects are critical to review and identify at project kickoff to prevent issues down the road.

From our ProjectPro team, Ed Williams, Director of ProjectPro attended and presented at the conference. We were able to connect with various industry experts in this sector and gain extensive knowledge from other subject matter experts. Team ProjectPro is looking forward to the CFMA Annual Conference next year and seeing everyone again.