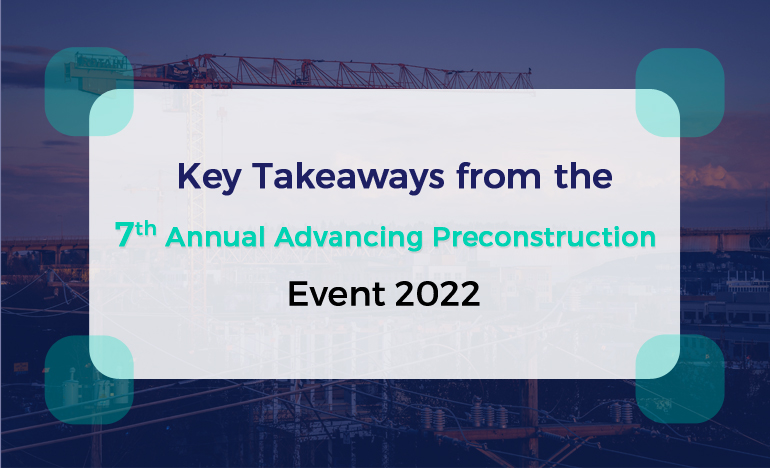 The biggest 7th Annual Advancing Preconstruction Event 2022 happened on June 12-13 in Las Vegas. This annual event was focused on strategies for tackling inflation and supply chain risk, including the knock-on challenges of accelerated design and early procurement.
Top industry contractors and design firms that have already worked with their client will share their real-time experience on encountering the following challenges:
Uncertainties

Establishing trust among clients and subcontractors

Collaboration

Tight deadlines

Limited budget
The primary agenda of this event was to help construction professionals get more projects and reduce risks during the supply chain and labor crises by using technology, collaboration and process innovation.
Here we bring you a few speakers who discussed the latest technology and processes in the construction industry:
1. Jay Harding, Director of Preconstruction Services in Clark Builders
He discussed and outlined the types of jobs conducted in the arctic and how climate and geography add restrictions and complications beyond traditional preconstruction. His discussion will enable construction experts to examine the keys to northern success and the consequences of failing to get pre-construction right.
2. Brooke Stevenson, Director of Operations in Evolve Steel
She discussed specifications, budget and schedule of the job and the intended responsibilities of each project partner involved in the construction project. She emphasized on how a collaborative design approach can help you overcome supply chain and procurement challenges smartly.
3. Ricardo Naranjo, Sr. DIrector of Power Operations in Henkels & McCoy
He discussed some great strategies on attracting new staff into estimating & preconstruction, graduates & experienced professionals from competitor firms. In this way, construction company owners can cope up with labor shortage challenges and work efficiently.
ProjectPro was able to cover the event and bring some great innovation and ideas to the table for our construction professionals. We believe these key takeaways will prove to be helpful for contractors who didn't make it to the event.