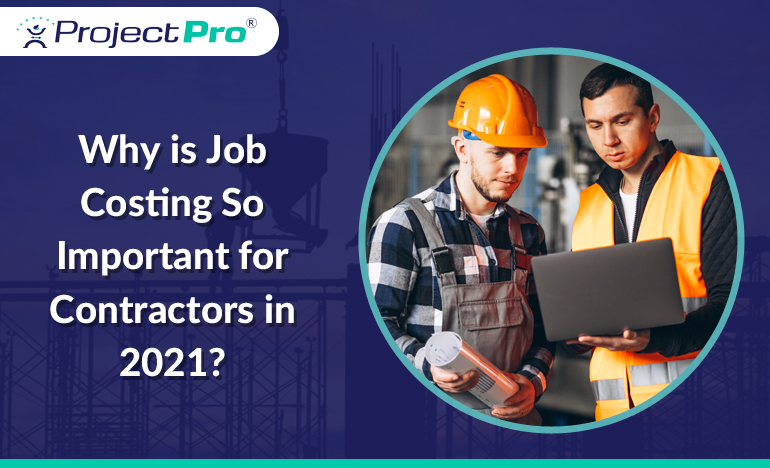 When it comes to construction projects, contractors are often found struggling with the job costing process. And it is very natural to happen as frequent job costing error causes direct damage to cash flow and budget.
This is why every contractor, irrespective of their size aims to drive accuracy in the job costing process and have the liberty to locate their money at all times.
Till now, you would have probably gained an idea of why job costing is so important for contractors in 2021. Let us discuss the entire concept of job costing in a bit more detail.
What is Job Costing?
When we talk about construction projects, there are usually two different ways which are used to define the price for the entire project i.e. Process Cost or Job Cost.
Process costing involves average costs for different jobs which contractors calculate using the past project data. On the other hand, job costing refers to the calculation of entire project costs based on labor, materials, equipment, and overhead costs for each activity associated with the project.
Though job costing calculations may look more laborious and time-consuming, Job costing method is much more certain and accurate. Also, the job costing process comes more handy when you need to work on various variables as you proceed from one activity to another.
Job costing helps you to know your expenses and even gives you the advantage to identify any over expenses made during any activity. Thus, it gets very natural for contractors to be more curious about their job costing goals in 2021, especially after all the financial downtime they had due to the pandemic.
Let us break down the concept of job costing and find out what are the key factors that must be watched when planning for effective construction and profitability.
Effective Job Costing is all about making accurate estimates, but it entirely depends on the information that you have for a particular activity. In other words, it needs you to have a detailed understanding of the job costing for construction such as identifying what is needed in order and using the information to put into construction accounting and project management software.
However, to ensure accurate estimates with construction projects, it is necessary to understand the main cost areas associated with job costing i.e. Labor, Material, and Overheads. Let us dig down into a bit more detail about each of these aspects:
Labor Resources
Every construction project starts with staff which includes office teams, labor, skilled workers, project managers, site supervisors, and so on. And to calculate the job costs precisely, it is necessary to check the payments you will make to your employees. This must also include the payments that you need to make to subcontractors.
Make sure you always have the closest idea of the costs that you would be spending on labor mentioning their hourly wages and other expenses that are related to contingency. Also, it is always a good idea to work on a job costing process that includes labor burden which is defined as indirect contract costs associated with an activity.
Most of the time, labor burden is calculated as a percentage of the company's direct labor. This can be calculated as equipment maintenance or repairs, insurance, payroll taxes, worker's compensations, and all other costs associated with payments you make to laborers.
Materials
Once you are done calculating the total labor costs including the taxes and overheads, the next thing you need to work is the materials. However, it is essential that you must consider involving your project managers and subcontractors in the process to ensure there are no missing data when it comes to materials.
Make sure you consider all the material which you need to achieve a particular goal in your work schedules such as steel, wood, or anything like screws, bolts, and fasteners. Material costs should also include any equipment which is rented along with an upcharge that covers costs related to waste material, delivery charges, etc.
Overhead
Last but not least, when you have added all the expenses to be made on labor and material, make sure you always have a scope for overhead costs. These overhead costs can even come from expenses that are made on the office and administration process related to a project.
Besides this, the overhead costs include equipment depreciation and business expenses that are not directly related to project activities or a particular job. However, it is always necessary to understand that these costs are approximate values, not exact expenses, and these approximate values flow across the entire project for any kind of job.
Creating Job Cost Summary
Quite simply, job costing is a process of managing, controlling, tracking, and categorizing every cost that is incurred by each job. In most job-cost software systems the costs are also associated with particular parts of the job or type of work that's completed. The primary goal of job costing is to keep track of all of your costs and your money, to know where every penny is going on every job. The ability to do this is the key to any good contracting business.
Taking Advantage Of A Job Costing Software
Though most contractors understand the importance of job costing, the only that that restricts them to gain perfection is finding the right job costing software and implementing it in the right way. Either you are a contractor or a subcontractor firm, it is always crucial to get construction accounting and project management software that can meet your specific business needs.
Consequently, when you need construction accounting software that can help you with job costing, make sure you always find something that can serve the needs of your staff, especially those who will be using it in routine and are an effective part of the decision making process. You must consider asking about their expectations from the new software keeping a focus on features that can help streamline projects for profit generation.
"Plan a customized solution for your construction needs with ProjectPro. Get a free consultation today!"
All in all, you need the right technology and knowledge if you need to improve your job costing process and ensure better business in 2021. Since investing in technology could make or break your business, it is important you find a business solution that aligns with your work process and project requirements.
Also, when you are particularly working on your job costing goals, make sure your software helps you to work on job costs and billings while working on your job requirements. It should be a solution that can take details of the job and summarize the costs in the most precise manner helping you with a budget and prepare costs.
Remember, your job costing process is the primary step to estimation as well as business development, and bringing precision to the process can be a major factor that determines your performance and opportunities.
Good Luck!
Looking for a complete construction accounting software that can help with contractor job costing goals? Try ProjectPro, an integrated technology designed for construction enthusiasts who need to ensure the best results with their projects. Reach our experts and schedule your free demo.