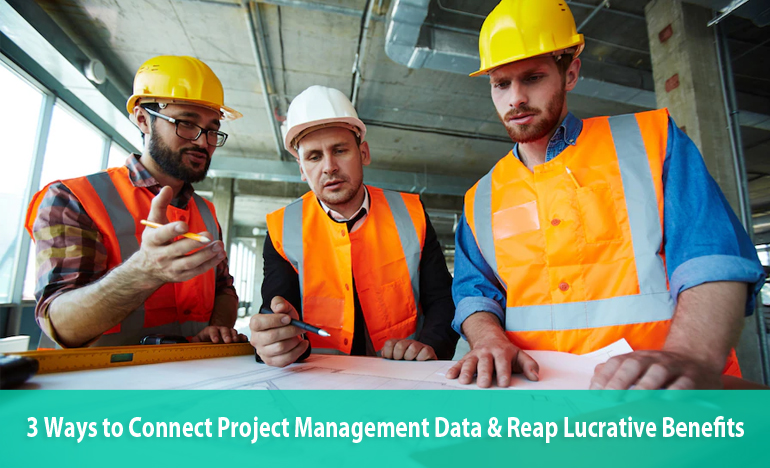 Contractors or project managers prefer using the data to overcome project failure rates. So when there's easy access to information, contractors can get rid of guesswork and make better decisions. One can also leverage data for managing schedules, resource allocation, reducing costs, increasing efficiency, and managing project risks.
The tools that project managers use for leveraging data are Business Intelligence, Business Analytics, or cloud-based platforms. As you know, Business Intelligence (BI) is a combination of software and procedures that collect, store, and interpret big data from diverse sources and alter that data into valuable information.
BI is considered a defining form of data analytics because it uses past and present data to gain insights into what has happened or what is now happening in a specific process.
BI and numerous cloud-based software provide real-time metrics to support projects, enabling you to speed your decision-making abilities and achieve increased visibility into processes, projects, and outcomes.
On the other hand, business analytics (BA) is a predictive tool that concentrates on the "why" to help make more informed forecasts about the future. With BA, data is analyzed to anticipate challenges better and adapt to enhance outcomes.
The future-oriented PMOs identify the need for reliable factual data to support project decisions and actions. Becoming a data-driven project manager means lifting your game in all aspects, from project planning to execution and implementation.
Let's look at how incorporating data analytics into project management practices can significantly benefit project outcomes.
1. Manage schedules and allocations seamlessly
Managing resources can be a difficult task for project managers. This is because the construction industry always lacks resources and sees new faces with every new project. These factors contribute to the inefficiencies while planning and allocating resources.
Data is vital in driving beneficial decisions around resource availability and allocation. The success of projects depends on being able to match skills, assign the best resources, and plan available resources.
Access to data from past and existing projects allows project managers to allocate resources sufficiently for different tasks and better plan for upcoming construction projects. Data in a single place allows project managers to determine underutilized or overutilized resources. This enables them to divert resources where required and schedule accordingly.
Construction companies using standalone Excel sheets rather than BI tools combined into their project management suites are usually in trouble.
Integrated BI and cloud-based tools will not only help reduce the chances of staff being overutilized but also exceed their means and possibly burn out. They can also ensure project scheduling timelines are realistic and pinpoint risk factors that might become barriers to achieving those timelines.
2. Improved process efficiency
BI or cloud-based tools can help PMOs uncover opportunities and improve unmanageable internal workflows or technology-based inefficiencies. Therefore, notifying project managers of changes that need to be taken care of to improve how stakeholders and project teams connect, collaborate, and interact.
By discovering and managing inefficiencies, project teams can focus on higher-value work and more rapid project delivery.
It's only achievable when project managers are able to collect data about current processes and inefficiencies. PMOs can also specify blockages and other process-based barriers and develop a path toward change.
These tools can also isolate inadequate or ineffective approaches and improve decision-making efficiency. It also helps to develop KPIs such as planned versus actual time spent on human errors, tasks, or the number of change recommendations.
3. Make better risk strategies
Construction projects encounter risks that can come in many forms and from internal and external sources. The risk threat can have a minor or significant impact on projects or an entire schedule.
Several construction companies remain in reactionary mode regarding risk and compliance rather than going beyond potential risks using BI tools.
Managing risk and compliance is one of the most crucial areas where BI can play a pivotal role in determining issues.
Data provides project managers with factual information that can separate multiple risks from past and existing projects, enabling contractors to reevaluate risk management strategies to move ahead rather than be reactive.

What to look for when searching for a BI tool or cloud-based software?
The software market is overwhelmed with hundreds of BI tools and cloud-based platforms available for integration. Finding the right project management tools is difficult, but focusing more on the right features, including:
Real-time customizable at-a-glance dashboarding

Secure role-based access

Precise visual charting and graphics

Easy drag and drop interface

Effortless drill-down to detailed capabilities

Seamless integration with other applications

Secure mobile access for remote workers

Easily share information with other stakeholders

Reporting capabilities
We believe that ProjectPro can meet your construction requirements. Built on Microsoft Dynamics Business Central, it has the ability to streamline processes and deliver excellent solutions as and when required. Schedule a demo today.