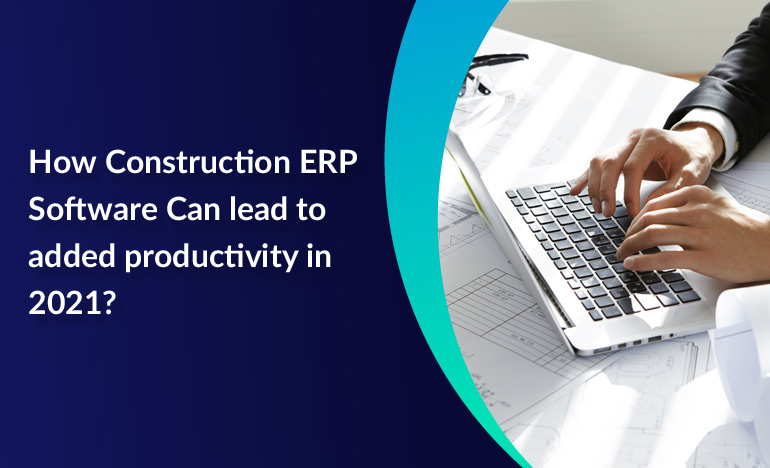 In 2021, more contractors are keen on technology uptake as it is leading to a boost in productivity and helps in streamlining their business. To give construction businesses a competitive edge and enjoy added productivity, more and more companies are opting for Enterprise Resource Planning ( ERP) software.
As a contractor, you realize a need for construction ERP software when equipment, people, and materials are all moving in different directions while you monitor your project.
Today construction owners have to deal with a mountain of data to keep operational woes at bay. What's more important for a contractor is to be able to meet the budget and complete the project on time.
Moreover, there are underlying needs to collaborate in real-time when teams are working remotely. Hence, the need to connect and monitor various stages of business operations arise, you need to invest in software that will reap future dividends.
So read on more about how you can fetch benefits of ERP software for your construction business for better productivity:
1. Helps You Navigate Challenging Requirements Of Your Business
The most important tenet to remain productive and profitable is to choose software that will improve your bottom line.
As the pressure to stay within budget and meet timelines exceeds, project owners should assess the complex needs of their construction business.
So when buying an ERP solution for your company you should be able to analyze challenges like spending a huge amount of time on spreadsheets.
A construction business has a lot of moving pieces and the pressure on profit margins also mounts from time to time. So it's best to save time and money by adopting technology that will lead to a better Return on Investment (ROI).
2. Mitigates Risks and Improves Profit
Before investing in software, find out exactly what problems you need to resolve while serving clients.
With an all-in-one construction-specific product like ProjectPro, you can track everything that can affect your finances. Be it tracking cash flow management, total wage hours, and labor hours.
Choose one that can process certified payroll reports and even work on tasks related to WH-347 Reporting, AIA Billings, etc. It also reduces mistakes and man-made errors.
A unified system saves a lot of time and money as you reduce the logistical effort involved in finding the information.
You have built-in auditing tools that can help you assess and manage risks. By having all the information in hand you can analyze the long-term viability of the product.
3. Cloud-based ERP for better returns
A cloud-based technology solution provides you with flexibility and mobility to work on projects from anywhere.
You should be able to carry out financial statement analysis from anywhere.
Make sure your ERP keeps tabs on all accounting data and keeps the information flowing to you smoothly at all times.
4. Invest in construction-specific software to thrive
When you are looking to boost productivity and reduce man-hours on manual processes then choose a niche-specific product. Since a generic software cannot offer you insights and support that only a construction-specific product might.
Whether it is analyzing transactions or planning taxes you need a dedicated solution for your enterprise. Be it material planning or resources management, your ERP software should integrate all your project accounting needs.
5. Document tracking for better insights
You want to stay on top of the competition, you need data and access to actionable insights!
For instance, our all-in-one construction accounting software like ProjectPro can track submittals, field orders, notices, and pending change orders. Not only does it track but sends email alerts so that you make an informed choice when it comes to decision making.
Therefore, we can offer you the functionality and flexibility to aid your team.
6. Prevent Profit leaks by providing reporting visibility
Your ERP solution should be able to allow you digital access to reduce costs and have real-time visibility on project progress.
With a built-in automated billing system that is error-free, you can send invoices to clients faster and release payments to vendors quickly. By keeping track of reports you can make informed decisions.
To keep the revolving door of skilled labor happy, you can provide remittances on time. This way you get to keep the subcontractor side of the business aligned too.
You can also make use of forecasting tools to make secure budgets as well.
By adopting technology, you get to gain control of your business to strive for profits.
7. Certified process to clinch a crucial deal
When it comes to productivity then nothing should be off the table. An ERP software that is backed by industry specialists is surely a better solution.
With generic solutions, you may have integration and deployment issues. But if you choose ProjectPro, fully certified and backed by Microsoft Dynamics 365 Business Central, rest assured you have opted for best value.
Strong financial control and security is all that can help you clinch a crucial deal and take on multiple projects to scale later on.
Let's Wrap-up
As we can see the benefits of ERP software are far more as it keeps the customers happy. Even the most tedious tasks like bookkeeping can be automated and this results in increased productivity.
With ERP software businesses can perform faster calculations, and avoid errors and mistakes. This only leads to efficiency, profitability, and accomplishments.
Moreover, improved inventory management enables users to optimize production and maximize their capacity. Better analytics is an essential part of the software and is an excellent business power tool.
A good ERP software can be a boon for a construction business as it allows you to monitor revenue with easy-to-see charts and coordinate service orders etc.
By opting for an integrated ERP solution like ProjectPro you can improve your bottom line and save yourself from manual tasks. It's time to stay digitally focused as the pandemic continues to rage on.
When making a choice make sure you are choosing the best partner to scale your business today!