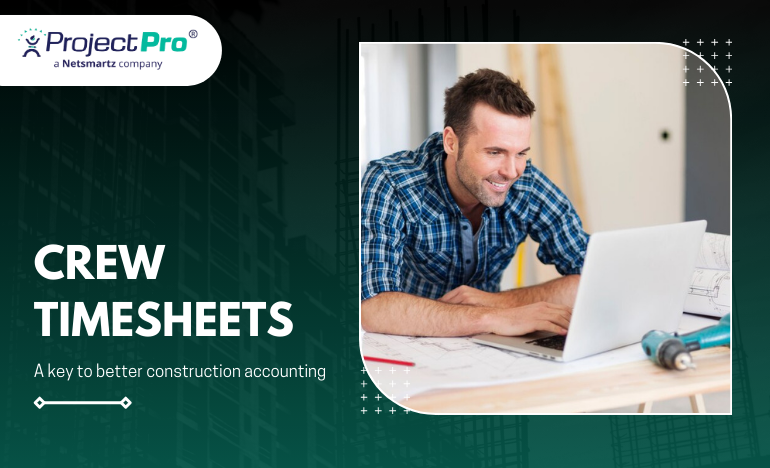 Timesheets are an essential part of any construction project. They help track workers' time on tasks, which is essential for accurate payroll calculations, job costing, and scheduling. Traditionally, timesheet management has been time-consuming and error-prone, often involving multiple entries for crew members and tasks.
68% of respondents involved in project execution and project Management agree that a Timesheet is an important component of managing resources, labor, utilization for quality control, and cost control.
However, such hassles have been handled with the advent of modern construction accounting software like ProjectPro through crew timesheets. Crew timesheets allow you to track the time of multiple workers on a single sheet. This can be a huge time saver for managers, who can easily see their crews' productivity and identify areas where there is room for improvement.
The Power of Crew Timesheets
An average of 21% of the time is saved from manual punching of the timesheet by individuals, and ProjectPro agrees to increase the ability to track and manage project costs.
Crew timesheets are the backbone of project cost tracking and labor management in the construction industry. They allow project managers, supervisors, and accounting personnel to record and monitor the time spent by each crew member on various tasks throughout the day. This data is invaluable for job costing, resource allocation, and overall project analysis.
In the past, manually managing individual timesheets for every crew member was time-consuming and prone to errors. The introduction of crew timesheets in construction accounting software has revolutionized this process by providing a centralized platform where managers can fill, review, and submit timesheets for multiple resources in one go.
Streamlined Data Entry
With the help of ProjectPro's crew timesheets, you can simplify the data entry by offering default entries for rates, projects, and other essential fields. This feature minimizes keystrokes and reduces the risk of input errors. With the ability to set predefined values, crew members and managers can save time and focus on more critical tasks.
Moreover, the ability to create a timesheet for the entire crew at once is a game-changer. This feature is particularly advantageous for high-volume data entry scenarios, where entering data for individual crew members could be extremely time-consuming and error-prone. The software's intuitive interface empowers managers to allocate resources efficiently and accurately.
Efficiency in Field Data Collection
The Crew Entry Timesheet is a prime example of the evolution of field data collection in construction accounting software. It offers a comprehensive set of functionalities that make it one of the most effective tools for timesheet entry in the field.
Comprehensive Task Tracking: The Crew Entry Timesheet lets managers track daily tasks. This feature is critical for monitoring the progress of different activities on the construction site and ensuring that the project stays on schedule.
Accessibility: ProjectPro's timesheets are available on both mobile phones and tabs that help resource management with the ability to check engagement with multiple filers as: Date | Week | Job | Sub-Job | Resource.
User-Centric Approach: While the crew timesheet allows collective data entry, it doesn't neglect individual needs. Each user included in a crew timesheet still maintains their timesheet. This balance between collective and individual entries provides flexibility while preserving data accuracy.
Real-Time Review and Submission: ProjectPro's real-time review feature empowers managers to oversee timesheets as they are being filled out. This proactive approach ensures that discrepancies or issues are addressed promptly, minimizing the risk of errors and delays. Once reviewed, the submission process is streamlined, expediting the overall workflow.
Integration and Data Flow: Crew timesheets seamlessly integrate with other aspects of construction accounting software, creating a unified ecosystem. Data entered in timesheets can directly influence project costing, resource allocation, payroll, and financial reporting, offering a holistic view of the project's financial health.
To Sum Up
Crew timesheets have emerged as a transformative feature within modern construction accounting software. Their ability to consolidate data entry, streamline field data collection, and enhance accuracy has revolutionized how construction projects are managed. By unlocking the potential of crew timesheets, construction companies can optimize their resource allocation, improve project cost tracking, and ultimately achieve higher levels of efficiency and profitability.
As technology advances, we expect crew timesheets to become even more sophisticated, offering predictive analytics, AI-powered insights, and further integration with various construction management tools. The future of construction accounting software lies in its ability to provide construction professionals with the tools they need to excel in an increasingly competitive industry.
Isn't it fascinating? Book a demo of ProjectPro and witness the power of crew timesheets today!