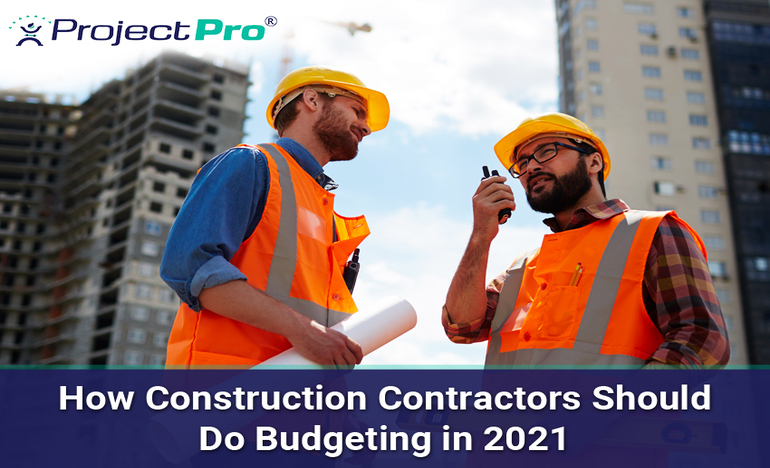 When it comes to managing construction projects, one thing that can make or break a project before the start is budgeting. Since any contractor aims to ensure maximum revenue and cash flow throughout the project, the right approach to budgeting is crucial at all stages of the project.
However, construction companies and contractors have turned out to be more particular about the task of budgeting as soon as 2021 started. With 2020 being a year full of financial uncertainties, expensive material purchases, delays, lawsuits, and more, contractors are looking for plans that can help drive maximum financial stability while keeping the project on schedule.
Though budget planning is imperative for construction businesses, contractors having a greater inclination towards budgeting is purely the impact of COVID-19. Since the primary stage of the project lifecycle is estimation and bids, contractors often find it challenging to stick with budget goals when working on bids. However, inefficient knowledge for budgeting often becomes the reason for contractors losing potential business opportunities.
Thus, to help you streamline the entire process of managing finances during the pandemic, here we bring you a simple yet effective guide that can help you work on your budgeting goals in 2021.
The First Step
The primary approach of budgeting should be to focus on reviewing past contracts that are similar to your current project. This will allow contractors to use a certain experience for making a gross profit estimation after preparing for administrative and general expenses. Such a strategy would help the contractors to determine an accurate forecast to ensure maximum gross profits.
The Second Step
Once you are done viewing similar projects and contracts, you can reach out to your business contacts to gain an understanding of the market. This will help you to explore the present market situation as well as available opportunities where you may bid. You can get all the necessary assistance from banks, bonding companies, construction associations, and the chamber of commerce. Also, you can look for contracts available on bidding websites or you can bid and acquire suitable projects through references from past clients.
Quick Tip: Take advantage of your construction accounting software such as ProjectPro to place intelligent and automated bids based on project requirements.
The Third Step
When you are done bidding on contracts that can be a win for your business, you can try converting your backlog and prospective projects into financial gains over the upcoming months. During this process, you can consider taking assistance from your field teams such as accounting staff, project managers, supervisors, and subcontractors to help you work on finances. Here is how you can work on the plan while taking consistent advantage of your construction accounting software:
Ask sales managers to help with bids that can be more successful.
Get your accounting team to work on estimates and potential overhead costs.
Have project managers work on revenue forecasting and expenses.
Since the calculation of overhead costs is a significant task that affects the cost of contracts, and the maximum of your expenses are associated with labor planning, make sure you consider factors like payroll taxes, job benefits, depreciation, rents, allowances, union dues, and other indirect costs to calculate overhead. However, it is necessary that all the teams must be in sync for these elements and updates related to them. This will help overcome the chances of loss due to the difference in overhead and bids, especially when direct labor is the most dominating factor for the planned budget.
The Fourth Step
Last but not least, make sure you include all the general expenses, administrative expenses, and service selling expenses, to find any fixed costs that could be reduced. This can be anything from renting out additional space to excluding labor costs for employees working fewer hours. Aside from this, contractors could always renegotiate the internet, insurance, and telephone contracts. Since working through these changes can be time-consuming, it is always advised to start the process of negotiations early.
Once you are done assembling all costs and expenses, make sure you check for any scope of modifications to compensate for the possible areas of loss. You can always switch to your construction accounting and project management software as well as your project managers to assist you with the process.
The Crux
Budgeting is one of the most significant aspects of planning construction projects. Especially, when you are a contractor who had gone through serious downtime in 2020, it becomes even more important that you make maximum with the opportunities available in 2021. This needs you to ensure that your accounting process should include an Income Statement that contains actual vs estimated budget with detail of variances.
This will not only help streamline your profits but also help to work on future project bids with more distinction. Also, you can use the data and insights available on your construction accounting software to identify business trends and respond to uncertain circumstances in a proactive manner.
The spread of COVID-19 is one of the most substantial challenges that the construction industry has ever faced. When you need to ensure revenue to sustain cash flow for your business today and for the future, precision budgeting is the only thing that will work for you.
Good Luck!
In case, you are wondering how you can take advantage of technology to work on the budgeting process in 2021, plan a quick consultation with our experts at ProjectPro, or simply get a free demo on the solution.