The construction industry had a tough time during public health crises. Supply chains were disrupted, construction sites were closed, and contractors were forced to adjust in such a dynamic environment.
Since construction companies have adapted to the new normal, various opportunities are in the limelight.
The economy seems stable, but construction companies should develop viable strategies to survive the economic downturn at any point.
So, we'll be sharing effective financial management tips to help you boost profits, and grow and enhance your construction business:
1. Identify the reason for financial crises
Contractors should start by identifying the cause that will create financial crises. There could be internal or external reasons; however, financial issues are a big red flag for construction companies.
So, it is crucial to mobilize and restore your financial stability. Find the answers to the following questions:
Have you been using business money and personal savings together?

Have you utilized all your business profits?

Do your customers always pay invoices on time?
Once you get answers to these questions, developing a viable strategy for your construction business becomes easy.
2. Pay off your debts
Construction business owners keep emergency funds and reserved funds. In such times, putting down your debts is a great idea. However, that doesn't mean you will pay off your 30-year mortgage loan in 10. Focus on those debts that will double your interest rates loans.
According to the Federal Reserve, it is evident that credit card issuers will raise their rate in the coming years.
The average credit card APR has been stable at about 16% for the past few years. If APRs begin to creep up, you'll have to perform more complex tasks to keep interest from accumulating on your balance.
That's just the federal average—if you have a good credit score, you could quickly pay an average of 25% APR. Once you are through these interest-rate credits, you can soon avoid using emergency funds and survive financial crises.
3. Work on the way you budget
When a financial crisis knocks, ensure that you keep your budget tight. Allocate your budget to projects that will drive more profitability to your construction business.
Also, avoid investing in expansions, events, or other activities that require a lot of money.
To keep track of your budget, use the right construction accounting software that will enable you to create solid job estimates and manage the budget accordingly.
4. Keep track of your business's cash flow
Taking care of your business cash flow is crucial for understanding business profits and expenses and determining factors hampering business cash flow.
However, with a cloud-based platform for your construction business, you can monitor your cash flow from anywhere, anytime.
Integrated construction accounting software available in the market allows you to track profits and generate financial reports efficiently.
Moreover, you'll be able to manage invoices by automating the process and reminding your clients timely.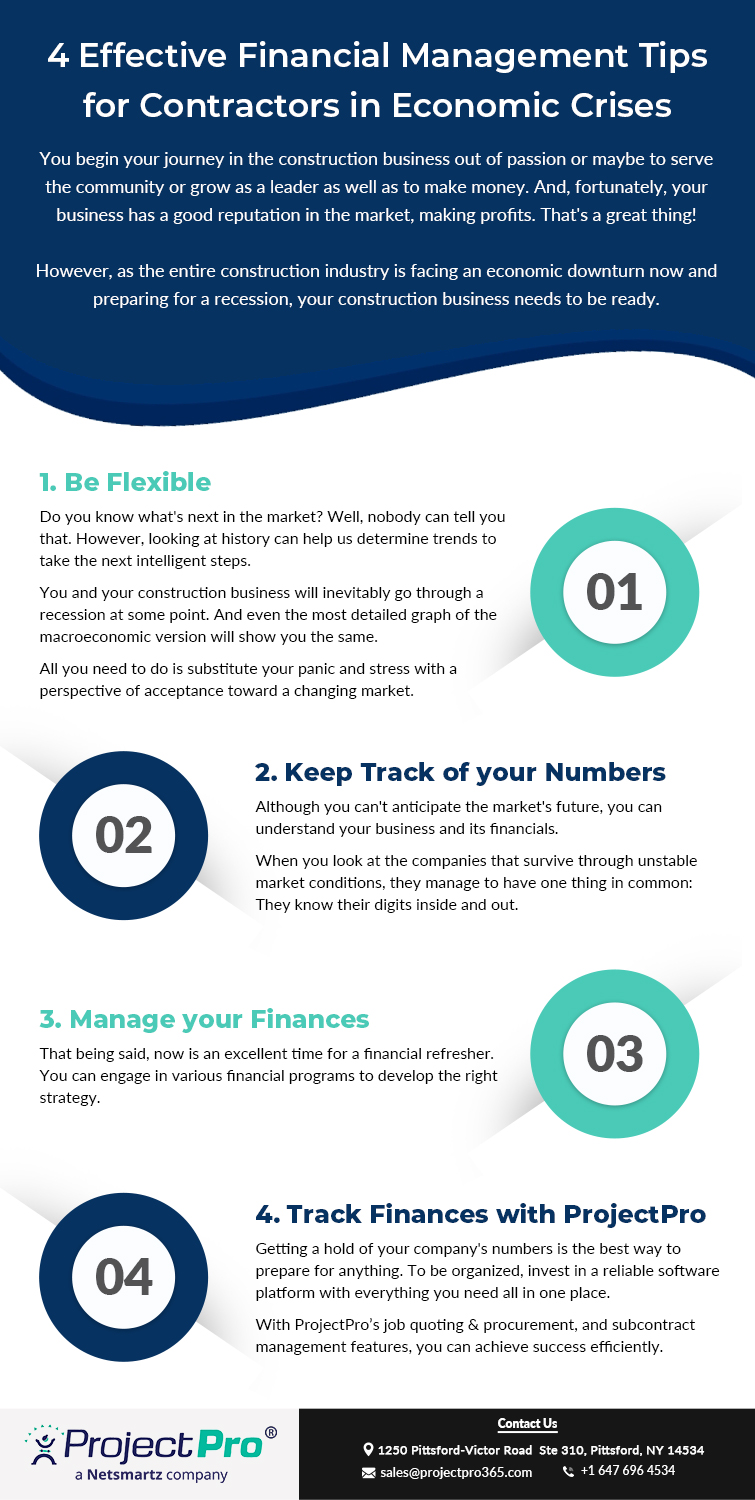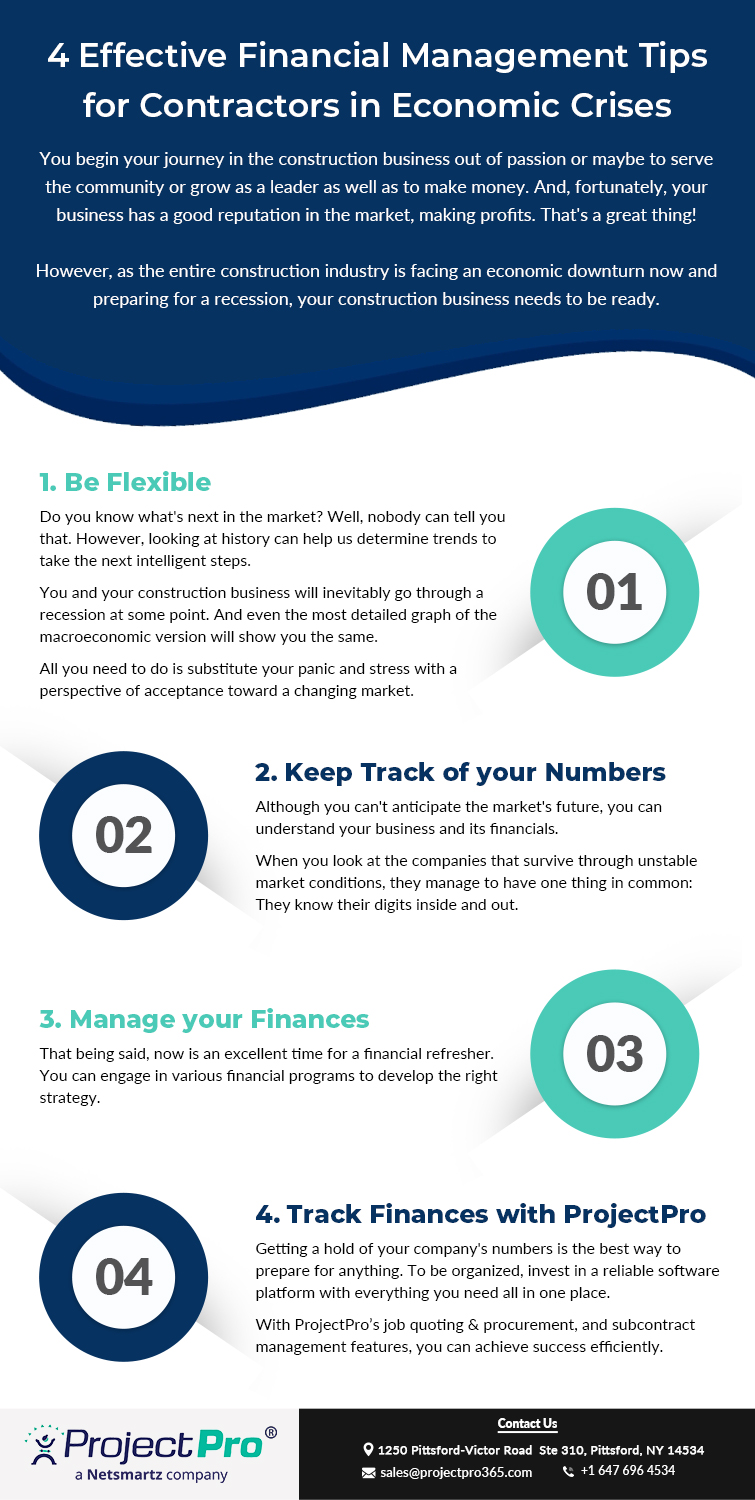 Bottom Line
To survive the economic crisis, construction business owners must put in a lot of effort. It is not a one-night show. It will take months to overcome such situations.
However, by taking into account the tips mentioned above, you'll be able to bring financial stability to your business.
Implementing the right construction accounting software is also crucial for your construction business. This is where ProjectPro can help you improve your business operations efficiently among the many choices.
Want to see ProjectPro in action? Schedule a demo and see what the software can do for your construction business.