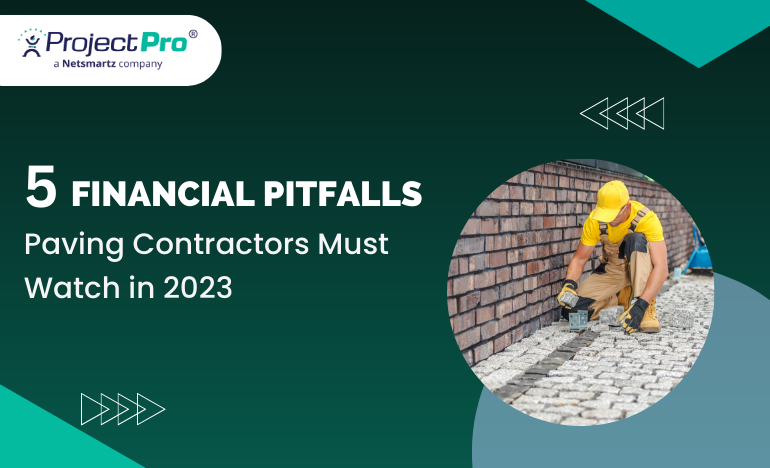 In the construction industry, numerous transactions and agreements are often made on the spot, sometimes even diverging from what has been contractually agreed upon.
This reality presents an added challenge for financial management for paving contractors. Informal agreements are not uncommon and ensuring that each financial decision aligns with the company's business strategy can be difficult.
As a paving contractor, you may be paying meticulous attention to your finances, it can be catastrophic.
Ultimately, profitability is still the end goal for businesses, and financial pitfalls may not be evident until they have already impacted the company negatively. It is best to exercise caution and prudence!
To assist with this, here are five financial pitfalls that paving contractors should watch out for.
1. Utilizing Accrual Accounting Alone
Using the accrual accounting method through a dedicated construction software powered by Microsoft Dynamics Business Central, a company can record revenue before receiving payment for invoices or record expenses before they have been paid.
This approach simplifies record-keeping during the planning and other early stages, but it may create a discrepancy between actual cash flow and recorded financials.
Depending too heavily on accrual accounting can lead to inferior financial management and operational decisions in your paving business due to frequent delays in payment and delivery.
Despite this, many contractors still rely on accrual accounting to track expenses and payments for ongoing projects, even when the transactions have not yet been completed.
2. Inaccurate Estimates
Running a construction company involves a lot of estimating. Many transactions, including contracts, rely on estimates, and as a result, several solutions assist suppliers and contractors in producing reliable estimates that will guide their negotiations.
However, a prevalent technique in the building industry is inadequate estimating. This may result from making estimates for new projects using out-of-date pricing and failing to examine actual costs routinely.
Price swings, particularly in the last few years, have been significant, and while making inaccurate predictions may occasionally benefit your firm financially, doing so can have negative consequences.
To get an accurate sense of what things really cost, it's best to assess project finances and actual expenses constantly. Nonetheless, it's important to be cautious when verifying prices before creating estimates and bids.
3. Poorly Maintained Change Order Documentation
Poor change order documentation is common for paving contractors. Change orders are often made hastily, with paperwork often marked as "to follow" but sometimes not completed or documented correctly.
This can result in the contractor being at a disadvantage, either having to complete unpaid work outside the scope of the contract or pay for materials and labor costs for work that will not be profitable in the long run or reimbursed by the client.
To avoid such situations, it is vital to assess your current change order procedure and ensure that any requested changes or additions, including all information regarding cost and timeline, have been approved by the client before starting new work.
4. Inadequate Cash and Liquidity Management
In the paving industry, contractors often have to make significant financial investments upfront for many projects. However, cash remains the preferred mode of payment.
Contractors only see profits once the final payment is received and the contract has ended.
This can be financially risky for many contractors, particularly those whose liquidity depends on a single project. Accepting a new project often hinges on receiving payment for the previous one.
5. Failing to Defend Liens' Rights
Not defending lien rights can be a serious issue in the construction industry. Unfortunately, paving contractors have one of the highest average days sales outstanding (DSO) among all construction contractors in North America, with an average DSO of almost 60 days in 2021.
While promoting timely payments can positively impact your cash flow, there may be situations where a client is unable or chooses not to make a payment. In such cases, lien laws protect contractors, material suppliers, and other professionals in the paving business.
Protecting the Future Sustainability of your Paving Business
Despite the fact that avoiding these risks may seem like common sense, many paving contractors still fall into the trap of ignoring them even when the consequences clearly impact their firm.
Established practices take time to change, and building a culture of financial responsibility requires a deliberate effort if you want to ensure your company's financial stability and success.
While it may be challenging, acknowledging the harsh realities of your company's situation sooner rather than later will help you avoid resorting to closing down as a last option.
The best thing you can do to overcome such financial traps is adopting a reliable accounting software for paving construction like ProjectPro. It is powered by Microsoft Dynamics Business Central that helps paving contractors to achieve project goals efficiently.