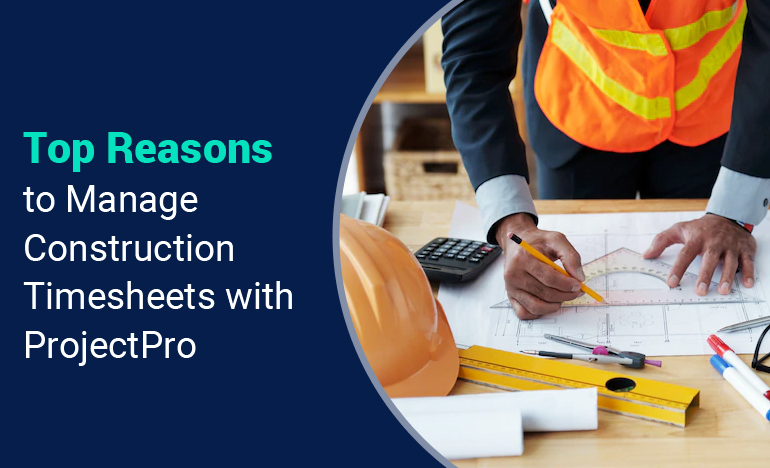 Do you know 35% of construction professionals spend their valuable time on non-productive tasks such as resolving conflicts, dealing with errors and finding relevant project details? Well, every construction owner understands the pain of handling labor with utmost accuracy and professionalism.
However, the construction industry is now in its transformation phase. Earlier, it was the least digitized sector, but the pandemic has become the key digital driver for them. 70% of the construction companies have moved from paper timesheets to digital sheets, boosting the overall productivity and reducing time and money.
This is where ProjectPro comes into action. As construction businesses have moved to integrated cloud-solutions, ProjectPro is the best platform for managing timesheets smartly. It enables you to keep track of resources with great ease. It also sorts the resources day-wise that you can copy the same another week.
Moreover, ProjectPro allows you to keep track of costs too. You get a separate column of rates to feed the per hour rates of labor.
Top Reasons why Timesheets by ProjectPro is Crucial
Construction timesheets are needed to log efforts against exact time and cost estimates. It makes sure every worker is where they need to be, doing what needs to be done. ProjectPro, a construction accounting software with built-in timesheets, generates time reports that indicate a historical record of time spent on various tasks.
This information helps predict the employees' bandwidth for prospective construction projects. Construction timesheets also quicken payouts to subcontractors and workers whose full-time equivalent can be measured on a unified scale.
Now let's dive into top reasons of using digital timesheets by ProjectPro and see how it will make the process seamless and efficient:
1. User-friendly interface
Ease of use is a crucial aspect to consider with embracing new technologies, specifically if you want the tool to be used by your team. In the case of ProjectPro timesheets, you get the best solution to manage resources as well as their cost from anywhere, anytime. Timesheet is the best feature of ProjectPro that makes it easy for your team to manage their attendance. It can also be integrated with a third-party payroll system to simplify the team's payments.
With this latest innovation, you get an improved user experience for the timesheets feature on your device. It delivers the correct information at the proper time to boost efficiency and lower errors. ProjectPro users can expect a fantastic adoption of the platform.
2. Promotes accountability
Having an accurate time tracking system in place for construction business can be challenging because employees don't work at the same time or place. This is why simple punch-in and punch-out of labor becomes hard and time-consuming. Let ProjectPro take care of all these vital and little tasks!
You can manage the entries of laborers on an integrated platform and simplify your payroll, regardless of whether it's an on-site team or office team. In this way, PMOs or payroll teams will be able to manage their large workforce with great efficiency. ProjectPro ensures that you get better visibility, accountability for your team, and manage labor costs seamlessly.
3. Ensure accurate reporting and data tracking
Along with promoting employee accountability, digital timesheets foster transparency. Using the data that is generated by ProjectPro construction accounting software helps collect progress reports related to expense management, labor performance, and payroll.
Translucence in allocating construction resources is essential for seamless processes and better asset management. Digital timesheet data also assures you're documenting critical changes such as wage proliferation. In addition, you'll be ready for financial audit events. It also delivers a chance to track construction assets efficiently.
Manage your Timesheets Smartly with ProjectPro
The old adage, "Time is money", is especially true in the construction industry. It enables you to overcome the biggest challenge—labor cost management. Adopting smart software like ProjectPro enables construction professionals to stay focused on core activities of their business.

ProjectPro lets you breathe by delivering high-quality digital solution and generating more efficient and accurate data. Now rely on ProjectPro's generate data and stay consistent in the competitive market. Focus on growing your business by keeping your labor happy.

If you're still using manual timesheets but want to switch to cloud-based solutions, schedule a demo today.