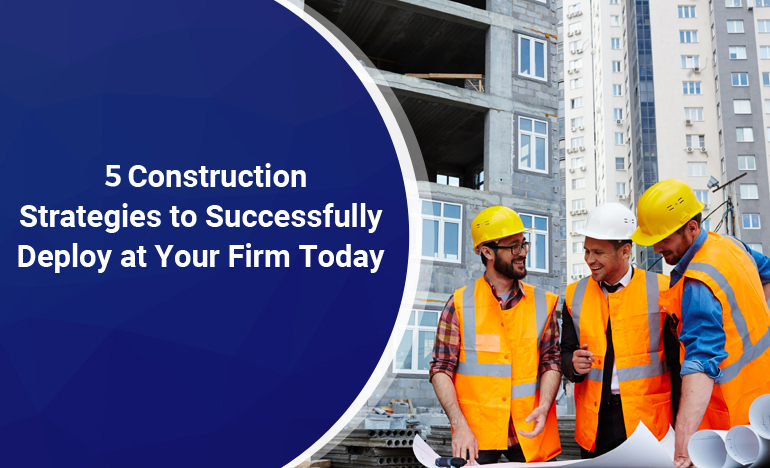 Construction is an industry that has been low on digitization, very low on spending, and has been lagging in terms of productivity growth. There is a dire need to implement construction technologies to transform an industry with a $1.6 trillion opportunity and a lot of scope to boost productivity performance.
Today the construction technology market is highly fragmented and the need for product-specific software is on the rise. The need for planning strategies to deploy at construction firms arises from the fact that incumbents are changing how construction firms plan, design, and implement projects.
Other than that construction is at the cusp of a new era and the need for digital collaboration is more. Hence, productivity strides have to be made through automation and digitization. But the question remains what strategies to deploy to maximize return from investing in construction technology. So here are the top 3 strategies that construction firms should deploy for added productivity:
Start Investing in Digital Solutions
Many construction businesses are rapidly investing in digital solutions and spending significantly on new tools. To stay on top of the competition it is best to deploy construction-specific software. Tech transition may not be easy but improving process value and operations is the only way to success.
Although digital initiatives carry some amount of financial risk but contractors should seek those solutions that will be a right fit for them. Since the commitment to innovation requires a risk-taking appetite but many construction firms shy away due to razor-thin profit margins here. Hence you should seek out partnerships such as that offered by ProjectPro powered by Microsoft Dynamics 365 Business Central that will future proof your construction business.
Look for enterprise resource planning (ERP) solutions that streamline your construction accounting so that you can increase field supervision for large construction projects. Also, look out for influencers who are trusted experts to seek out information on the current trends. You may also want to consider their advice on the need to bring in digital skills in-house and see what product they are endorsing.
Rely on data to lead the way
Today the need for integrated data on a centralized system trumps all and equips you to deal with any unforeseen situation. Hence a software system with project management features and with Customer Relationship Management (CRM) functionalities is a popular choice. This helps builders and remodelers to collect and analyze data on ongoing as well as on past projects.
Construction technology that incorporates data and allows decision-makers within firms to get key insights and make a meaningful decision will continue to dominate construction landscape. Relying on building information modeling (BIM), analytics and decision-making algorithms will help firms to evolve a strategy unique for them.To hit the mark, ensure that digital solutions are being leveraged for added productivity and are able to enhance data production efficiencies.
Investing in capabilities and collecting targeted data will help in increasing your return on investment (ROI) and help you strengthen control of your project. But to make a lasting impact and to scale your business, you have to rely on data that is going to lead the way for future building projects.
Stay focused on your digital strategy
By adopting construction technology, you must establish a performance baseline and how it will affect your bottom line. Identify your areas of improvement such as construction productivity, documentation, tracking project progress, and streamlining your accounting process. Then set some benchmarks to quantify the benefits associated with implementing this digital strategy.
Look out whether new tools can be integrated with current systems and monitor results to maintain the momentum of such digital initiatives. For a construction business, it is essential to prioritize comprehensive digital transformation that is designed to stop profit leaks.
Some may find implementing construction technology and developing a digital strategy more challenging but you have to implement initiatives that can be scaled in the future.
Way Forward
To equip the contractor to succeed in riding the wave of digital transformation will empower construction firms to succeed. As construction projects continue to become more expensive and complex, construction managers are facing an uphill battle to improve efficiency, timelines and make projects cost-effective.
With advanced analytic capabilities and construction-focused hardware that is eliminating the problems related to sharing project information and previous difficulties associated with collecting data, firms are in a better position to execute projects.
New tools are enhancing field productivity, helping with quality control and safety monitoring has become easy. It's true that construction technologies are gaining momentum and automating tasks such as managing equipment and scheduling is allowing builders to exploit valuable project data on costs and finances.
Digital collaboration is facilitating the exchange of information and allowing contractors to make changes in purchase orders. Also, there is an increase in efficiency and on-site execution of projects is much more accurate due to the accuracy of project specifications.
As we all know by now that construction strategies help set contractors up for success. Apart from reducing inefficiencies, deploying a strategy also improves profit. It may be hard to adopt a new operating model as it involves significant investment and overhauling your company's culture. But it's time to change work operations and rely on integrated data to future-proof your business. To position yourself for success and priming your organization to understand the need for change productivity and profit is the need of the hour.
It's important to focus on winning and coordinating the next stage of work and only construction technology can catapult you to soar above the competition. Say yes to transparency by banking on a robust platform that can streamline workflows through real-time alerts and updates.
ProjectPro powered by Microsoft Dynamics 365 Business Central has the built-in capabilities to automate the business processes and assist construction businesses with expansion plans.
Still, have queries? We'd love to hear from you. Scale your business to new heights by partnering with ProjectPro. Schedule a demo and talk to our construction experts on how to deploy construction strategies with the help of ProjectPro. Get ready to take your business to the next level today!