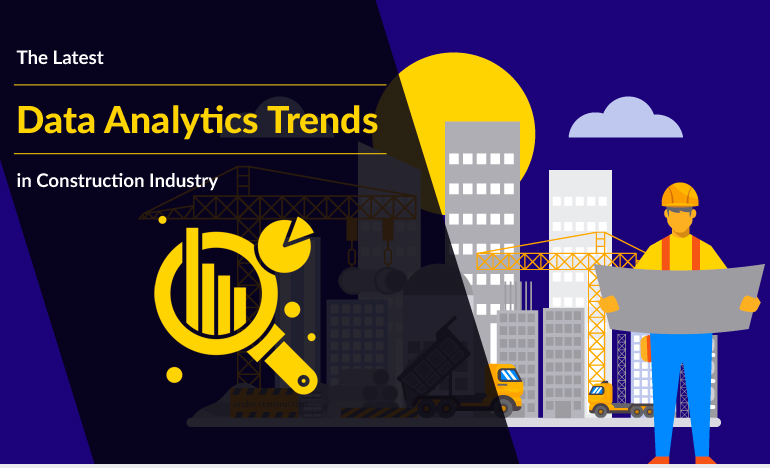 In the world of construction, contractors are practically dealing with data on a daily basis. Many of them do not have the tools to analyze the data so that they can make meaningful decisions to manage their projects. On the other hand, construction sites collect enough data whether it is related to design or BIM.
Right from the beginning to the in-between stages of the project, data is getting collected whether it is jobsite data retrieved by wearables. Also, contractors have to deal with project management data and much more. To make sense of it you need to keep tabs on data analytics trends in construction.
Business Intelligence and Data Analytics have become hot topics in constructions and many construction firms are realizing the advantages only now. Many have observed that they need to be vigilant of the construction tech trends and start participating to see which one will be the most profitable for their business. The industry as a whole needs contractors to get smart about data so that they can increase profitability and boost productivity in the long run.
Let us take a look at what benefits await contractors when they are able to analyze data and implement data driven decisions on current projects.
1. Improve Productivity and Job site processes
By analyzing data, contractors are better positioned to improve workflows, improve efficiencies, cut costs and automate tasks on job sites. Meaningful insights can help construction owners to streamline the construction business rather than simply tracking cash flow and traditional job costs. Additionally, it can save you a lot of time as well because your job site processes are visible whenever you want.
2. Help you win more construction work
As a growing business you need not put your company's data and security at risk. Don't take chances with your future, but plan for it instead. By closely tracking worker productivity, materials and equipment planning, change orders and job costs, it can help you with forecasting.
By analyzing data you can make smarter bids on future projects. Overall, keeping a close watch on construction tech trends will ensure you have a more complete picture and relevant data at disposal. This will give you an insight on how jobs will fare and how you can make improvements.
Curating data and carefully reviewing it also ensures accuracy, and increased efficiency over time. Moreover, you can plan delivery within budget and on-time that will earn you a reputation of a solid construction firm and win you more work in the future.
3. Enhance safety by reducing risks
Data related to safety issues must be tracked proactively. This will help construction managers to identify unsafe conditions and tasks that carry high-risk. By carefully using this data for decision making you can avoid future incidents and reduce risks for your firm.
4. Transition to the field of predictive analytics
Data analysis can help you plan better and there is another trend that construction players need to watch out for and that is predictive analysis. In most cases, you can only gauge what occurred when a project is finished. Predictive analytics can help you make wise construction decisions based on future projection by forecasting what will happen in the coming time. Having access to this data can help you build predictive models in construction. With the help of Artificial Intelligence (AI) and increase in machine learning you can build future models.
Why should you opt for construction technology?
Today construction ERP softwares is equipped with business intelligence solutions and data analytics tools. Also, it is easier to bifurcate data to specific fields, create customized reports on predictive models. You can also map data and track project progress.
Similarly, other technologies like GPS tracking, jobsite inspection apps and wearables can strengthen data collection. But the real challenge is making sense of data collected and this is leading to opening of job opportunities for construction managers who have experience in business intelligence and data analytics. This will lead to industry overhaul and usher industry transformation.
Thus, powerful technologies designed for construction can put firms on the path to successful data analytics.
How can all-in-one construction accounting software ProjectPro with Business Central built for Business Intelligence help?
To enjoy the full benefits of business intelligence and data analytics you need the right software system at hand. ProjectPro powered by Microsoft Dynamics 365 Business Central is an integrated construction accounting software with great project management features and an ERP & CRM solution. As a purpose-built software for construction businesses powered by the latest technologies of Microsoft it can streamline construction operations and workflows.
ProjectPro can take care of your accounting process and document tracking needs and helps you make good construction decisions while strengthening control over your company's projects. It can help you sort, analyze, interpret data and provide meaningful insights on the project.
This is why an integrated cloud-based construction ERP solution is of great help when you need to collect, collate, store data for comprehensive reporting. ProjectPro comes with built-in data analytics tools that enable better planning for future projects. Construction professionals can access data in real-time from anywhere and whenever they want. At the same time, ProjectPro with Business Central assists you in unlocking the true potential of data to make meaningful construction decisions.
Way Forward
The future belongs to those who can tap data analytics trends in construction and implement them efficiently in their construction businesses. To get the most out of data analytics, construction firms need to choose the right solution for their organization. This will help you to leverage data to take concrete actions that can make your firm more profitable. Not only will it decrease project risks but also ensure that your bid estimates are more accurate. Rest assured, data analytics can make many of your operations more transparent and efficient.
ProjectPro with Business Central can help you chart the unknown waters of data analytics. To know how we can help you make more insightful construction decisions, connect with our experts by scheduling a demo today!