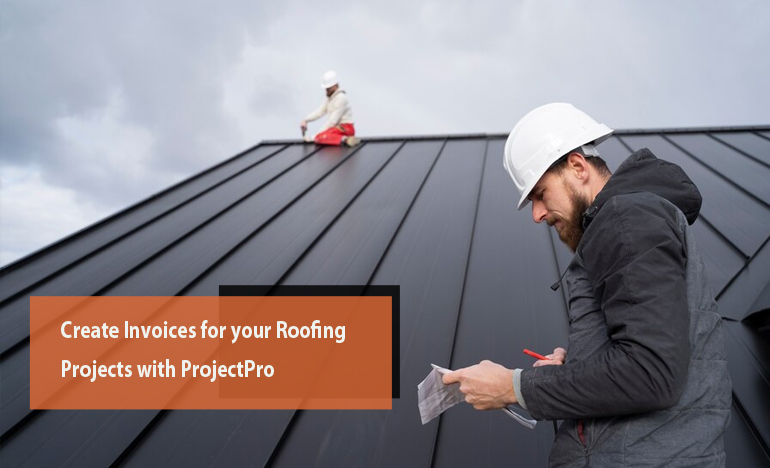 Invoices are essential for running a thriving roofing business. When contractors are capable of creating invoices seamlessly, one can experience streamlined workflows.
This is why our team has worked hard to offer a new invoicing experience to our roofing contractors and streamline processes by introducing ProjectPro.
ProjectPro is a robust solution that ensures every roofer can generate accurate and timely invoices. Whether we're upgrading our product or features, our end goal stays the same: to provide you with the best possible experience and continued success for our customers.
ProjectPro with Business Central can help roofers plan and execute tasks and projects for on-time delivery. Our all-in-one construction accounting software powered by Microsoft can help you take control of your budget and resources, resulting in better profits and an upsurge in revenue.
To learn more about our software, here's a blog that will answer your queries related to our invoicing solution:
1. Why is generating invoices the need of the hour for roofers?
Numerous responsibilities come along with running a roofing business. One of those is creating and sending invoices to clients for services rendered.
But if you've been creating invoices manually, the ratio of not getting paid will be higher. This is because there would be no proper format, numbers can be inaccurate, and you may not have the correct data. Moreover, in the end, without money coming in, your roofing business will probably not last long.
So, roofing invoices are critical, and our roofers need to ensure they're charging their clients precise amounts. And all the financial data that you need for generating invoices is inside ProjectPro. Microsoft Dynamics Business Central powers our platform, so you can leverage our easy-to-use features. Any user can get started with ProjectPro and figure out how to invoice for costs or line items in other different areas.
2. Is there any guiding team to help use the invoice feature?
Indeed, we have an expert team who are willing to guide you through the exceptional capabilities that we offer. However, Microsoft Dynamics Business Central is used by billions of people out there. So, you might be accustomed to the the platform's interface as we believe in keeping it simple.
To help you use the platform efficiently, we did a usability test. We compared our ability and inability to equip ProjectPro thoroughly. With our advanced construction billing methods, users can create invoices in less time and with an extensive degree of confidence.
3. What major problems can be resolved with ProjectPro capabilities?
Roofers running fixed-price projects require the option to levy their clients for their work through their estimate, with any choices they create, and on any change orders that notify. You can create separate invoices for every roofing project to invoice job items.
We ensure that clients don't get cluttered with receipts and receive numerous daily invoices. And if roofers try to consolidate invoices into one by manually adding line items, you may lose the link between line items and the actual invoice. This meant that the invoiced payment for those line items would be inaccurate.
With ProjectPro, roofers have a single place where they can see everything that still needs to be invoiced to their clients; there's a lower risk of missing something. which eventually leads to less coming out of our roofer profits.
Generate your construction invoices seamlessly using ProjectPro
ProjectPro provides significant insights and can help you stay within your budget while also enabling you to meet your timelines. A well-defined roofing accounting program will help you track costs and billable tasks.
Our cloud-based ERP solution ensures quick access to your construction data with an easy dashboard. This will help you check project improvement at all times. A solution to numerous existing sufferings. To boost productivity, efficiency, security, and accessibility, cloud-based ProjectPro can help you with your project management requirements.
Call us today to help your team attain better productivity, higher profits, and scalability and efficiently manage your projects. Also, if you want to learn how cloud-based ProjectPro software is an excellent investment for your roofing firm. Schedule a demo with our leading construction experts and get ready to reach greater heights by learning the ropes of thriving roofing management today!