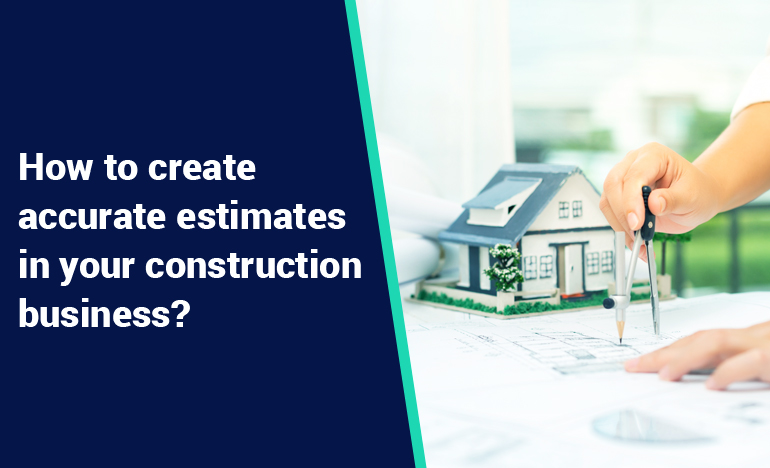 Providing accurate project estimates to your clients seems challenging for every industry, and construction is not an exception in this regard.
Several factors need to be considered for every project, making each estimate special from the next.
As a construction business owner, you know how significant it is to estimate accurately. With fluctuating material costs and a competitive market, worrying about whether your bids can win or not. Besides, one more aspect that makes things more challenging is estimating higher risk, leading to losing the job or estimating lower than market endangers bottom line and your brand's future.
Well, it may seem like you'll lose in every situation, but it doesn't have to be. Execute the below-mentioned construction estimating tips and ensure that you're providing the most accurate estimate possible.
1. Ensure that your launch process is excellent
In the launch process, you should have a meticulous outline of every aspect of your project you will need for each job. It would help if you spent your time reducing the possibility of making a mistake.
Using ProjectPro, an all-in-one construction accounting software, is one of the most acceptable ways to begin with your construction cost estimation at the start of a project. This software offers you with:
Use an integrated database

Professional report menu

A work analysis structure
2. Maintain your cost-estimating catalog smartly
We understand that this task is quite difficult, but not impossible. Creating a construction cost estimate without using a database is an effective way to do so. After a period, your database should keep growing and evolving. This makes it easier to produce estimates for new projects. You can also use your database to allocate crew and production rates to every project variable.
Your construction database plays a vital role in creating an accurate estimate, so be sure it's consistently up to date.
3. Prepare a checklist for easy project tracking
Preparing a checklist or utilizing a construction estimate template is one of the most significant steps for staying consistent. This is where ProjectPro can help you. It has an in-built feature that allows you with ready-made templates to keep track of project details.
Using a templated list is suitable, so you're not starting from scratch each time. You'll have your essential list, and then you can take on any job-specific essential items. Implement a construction accounting software ProjectPro today!
4. Stay ahead of material costs
The construction industry is one of the leading sectors affected by fluctuations in material prices. The materials and appliances can be complex, and the prices vary frequently. Remember when you're creating your estimates. Keep in mind the following questions such as:
Is High demand for certain materials?

Can certain items or appliances order back?

Are there any restrictions for products?

Does this project need any custom work?
Staying notified on these topics at the beginning of a job will help advise your estimate.
5. Analyze risks in cost
Your construction estimation should possess costs for things that may go wrong. There's no accuracy in the prediction of tomorrow, but the best way to predict these unplanned costs is by looking back at earlier projects. This will give you a fair idea of what could potentially happen.
Expecting these costs will enable your client to be ready financially and protect your end if something goes wrong.
6. Take into account costs beyond labor and materials
Along with paying attention to detail, don't give extra cost items, you will also want to keep in mind the operating costs that will slip outside of labor and materials. For instance:
Engineering or architecture

Land purchase

Operation and administrative

Legal services
7. Know your equipment needs
You may get more large projects than you already have, requiring more equipment. Having the right equipment for the job will ensure that the job is completed efficiently, but more equipment indicates more money. Don't overlook these extra costs. The right time to factor them in when you're creating project estimation.
8. Evaluate higher costs more closely
When creating your construction estimates, you'll want to prioritize your focus on the pieces of your job that have the most elevated percentage cost. Your number of tasks, the scope of work, labor pricing, and material costs should take primacy when building your estimate. Looking meticulously at these items will help you prioritize and cut costs in other areas if essential.
Let ProjectPro construction accounting software help you create accurate estimates!
If you're looking for an excellent way to build your construction estimate, ProjectPro has your back. Manage your cost breakdowns, and see the profit you can gain for each job. To learn more about ProjectPro, schedule a demo today.