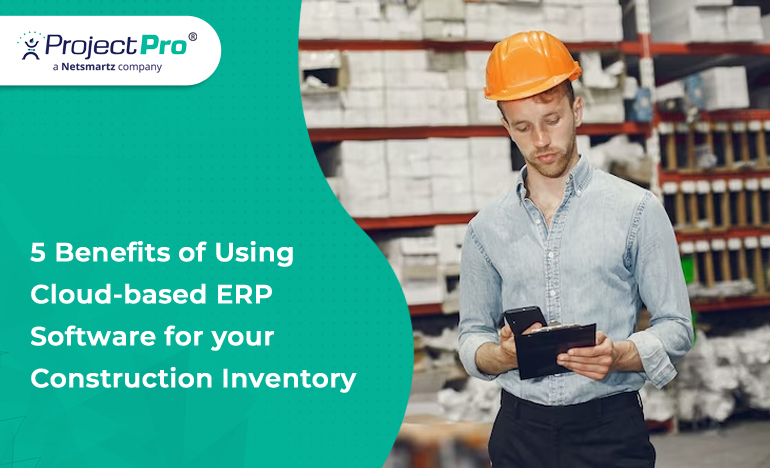 Every construction company maintains an inventory and knows how challenging it can be to manage it effectively. Eventually, you need to have enough materials to meet fluctuating consumer demand, but keeping too much of a product can result in unwanted waste.
According to a survey conducted by materials supplier Avery Dennison, a significant amount of waste is happening, with 8% of stock expiring or being discarded, resulting in a staggering $163 billion in unnecessary inventory each year.
The costs and risks associated with poor inventory management are too significant for any business to tolerate. However, given human fallibility and the errors it may cause, preventing these problems may seem easier said than done.
As a result, every construction business requires suitable technology. The most optimal technology in this scenario is an integrated inventory management system and a cloud-based ERP solution.
Let's dig into the top benefits of using cloud-based ERP software for managing inventory:
1. Stock Tracking and Analysis
The most significant challenge in inventory management is achieving accuracy. Counting and recounting stocks consumes your time and resources, leading to a depleted workforce. The real damage to your budget comes from overstocking or understocking, reducing your margins.
Cloud-based ERP software provides a solution to this issue by allowing inventory tracking at all stages without the limitations of traditional methods.
With tracking functionality based on lot and serial numbers and detailed breakdowns into sub-categories, you can access pallet data at any time through a menu. By comparing location information with other variables, such as expiration dates, you can analyze and decide on your inventory's status whenever you want.
2. Cloud-based Supply Chain Management
Inventory management is crucial for any business, but what really ensures sustained profitability is effective product distribution. Timing is key when it comes to procuring fresh goods to maintain a positive inventory turnover rate.
However, manually tracking inventory can be labor-intensive unless you have a modern cloud-based ERP and inventory management software with order and requisition automation.
In one of the interviews by John Moore, "Cloud-based ERP systems have become increasingly popular among construction companies because they offer a number of benefits for managing inventory, including real-time visibility into inventory levels, automated ordering and replenishment processes, and the ability to track inventory across multiple locations."
Using cloud software to automate your procurement processes can streamline supply chain management and save you valuable time on administrative tasks.
With the flexibility to design your data fields, robust analytics, and predictive forecasting, you can create fully customized reports that use past vendor information to help you plan your distribution management procedures based on real-world supply and demand.
3. Managing Inventory Costs and Accounting Data Process
Another data point to monitor is money, which is generated by various inventory management operations.
Smaller distributors may rely on desktop accounting programs to manage this data, but these programs cannot handle the high volumes produced by larger companies.
Furthermore, off-the-shelf products cannot interface with other departmental databases, leaving you with little choice but to manually enter data using pen and paper.
You can utilize inventory and distribution software hosted in the cloud to avoid human errors and inaccuracies. By implementing software like ProjectPro, you can link your inventory management with accounting procedures and consolidate data entry and reporting in one location.
Your cloud software will maintain an up-to-date record of every transaction and create current paperwork, even with partially filled or incomplete orders.
4. Holistic Profitability Measures
Key performance indicators (KPIs) reveal your company's performance by alerting you to potential opportunities and issues. Software solutions like ProjectPro's project accounting enable construction companies to access real-time financial data from anywhere and anytime.
This software allows you to maintain a single version of reality for managing finances and construction projects.
The integrated view of your data silos provided by this technology helps resolve any problems, and it also offers mobile SaaS options that cater to your business needs.
5. Real-Time Management of Warehouses
By utilizing real-time communication, cloud ERP software overcomes the previously existing geographical limitations when managing multiple warehouses.
Adopting cloud-based software provides you with remote access, enabling you to monitor inventory levels from any location. In addition, cloud solutions eliminate the restrictions imposed by traditional IT infrastructures that necessitate on-site hardware, such as servers.
With the almost limitless digital resources accessible through the cloud, multi-warehouse capabilities can be tailored to suit your requirements, including modifications to inventory volume, distribution center location(s), mobile device deployment, and other factors.
Bottom Line
In today's technologically advanced environment, those in the construction industry need to utilize a cloud-based ERP system specific to their sector. While the transition may seem challenging, the benefits of an integrated cloud far outweigh the drawbacks.
Choosing the right construction ERP system can be difficult, but once that decision is made, it can be difficult to overstate the numerous advantages that a cloud-based ERP can provide.
ProjectPro is one such platform powered by Microsoft Dynamics Business Central that can help you manage inventory, accounting, and taxes. Schedule a demo now.