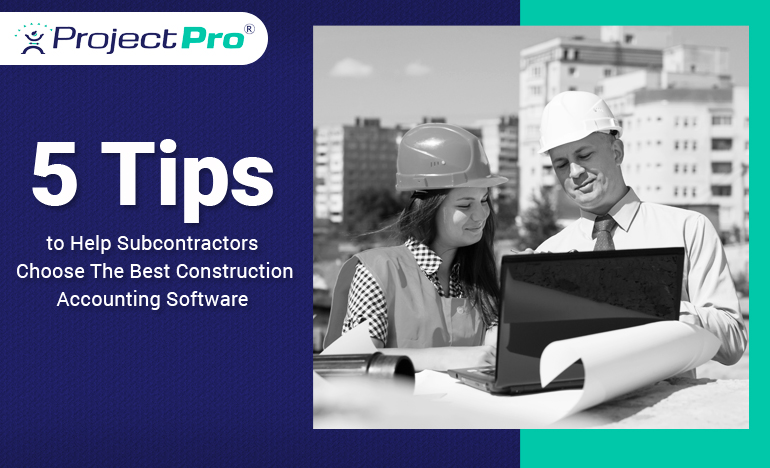 Being a construction subcontractor is not an easy job, especially when you need to keep up with a fast-paced, ever evolving industry. Though there are several types of technology solutions to help manage the complex operations of the project lifecycle, many subcontractors are unaware of the resources available to help them to meet construction goals.
For instance, if you are a subcontractor, implementing a construction accounting solution will align your company's current projects and tasks while supporting any future requirements. It is a solution that will help you make better informed decisions today's projects and the projects of tomorrow.
Step one is to find a construction accounting software that can help you with financial decisions and projections. Since financial control is the most important part of a job, especially when it comes to bidding, resource planning, project management, job labor, and change orders. Here are 5 essential tips that can help subcontractors to choose the best construction accounting software. Let's begin.
Choose A Solution That Meets Your Business Needs
Most of the time, construction firms, as well as subcontractors, unintentionally choose a software solution that does not align with all their business needs. Therefore, it is crucial to opt for an integrated cloud solution that can meet all business requirements in regard to the assessment of the entire process.
Estimates & Invoices
Making estimates, planning expenses, and billing clients are some of the routine processes that demand extensive manual effort when you're not working in a fully integrated system. Switching to automated accounting software allows subcontractors to keep track of all their expenses while working on the payments and invoices more effectively.
In addition, it should be a software solution that can define the scope of work during the bidding process while ensuring timelines are met throughout the progress of the project. Choosing the right software solution can help subcontractors quickly work on project estimates as well as invoices, bringing more clarity to the customers while driving productivity.
Cost Tracking for Improved Profit Management
As construction projects involve the simultaneous movement of multiple tasks, subcontractors need to invest in a solution that can track entire data related to material and labor expenses. For such purpose, using a construction accounting software like ProjectPro can help office and field teams by tracking resource consumption, job labor entries and overall expenses made on a job. Moreover, it can even aid project managers to avoid any cost overruns that might affect the ultimate projections of the end goals.
In addition, using construction software could even help subcontractors to quickly produce reports related to profit margins, customer relationships, and efficiency. Using all the information from the projects, subcontractors even have the advantage of winning profitable projects and retaining clients for the delivered excellence of service.
Unbound Access with the Benefit of Cloud
Construction projects may need subcontractors to work on various on-site and off-site locations that need instant access to real-time project data. Using construction accounting software can allow subcontractors to have mobile access for all information related to expenses, invoices, and transactions using the cloud.
Using accounting and project management software even allows users to create estimates and share them with teams using their Smartphone or tablets. With on the go support, project managers, project owners, field teams, and subcontractors themselves find it much easier to share updated plans, change order details and progress reports. Also, the information available on the device can be used by both subcontractors and project owners to confirm invoices and billings by simply using their mobile devices.
No Overpriced Legacy Practices
When it comes to construction services, time is the most important factor that determines the success and viability of the project. Using a construction accounting software that is based on an integrated cloud platform can help subcontractors have a precise allocation of time and resources. All transactions and data are in real-time which means there is no lag in data. This makes it an infinitely better choice than a legacy system when it comes to productivity and overall project efficiency.
Preventing Overpriced ERP
Over the years, construction firms as well as contractors are significantly leaning towards ERP solutions. Since the goals with ERP tools are associated with improved workflow and business growth, most subcontractors who are working on poorly strategized ERP solutions may experience business breakdowns.
The only solution that can help streamline the process is integrated ERP technology that can add value to the operations. Since budget is a crucial factor that might affect the quality and offerings of ERP solutions, it is always a better idea to switch for a cloud solution that can provide savings on infrastructure.
The software dashboards and user-friendly product interfaces in accounting software allow project managers to navigate easily for finding important project data. Adding to that, the standardized reporting features, profitability advantage, and team collaborations, all make it easy to produce results using the accounting software.
Nevertheless, the only thing that subcontractors need to consider before making any investments into ERP or Accounting software is to opt for an end-to-end integrated solution like ProjectPro that can work on all operations related to Accounting, Progress Billings with Retention, ERP, and Project Management at the same time.
Always Look For Built-in Productivity Features
Since cash flow is an important part of the project management process in construction, subcontractors should look for solutions that can help with quicker bill payments with the lowest error rate.
As manual billings can take a substantial amount of time to complete, invoicing features available within the accounting software allows subcontractors and project managers to process them with ease. This not only helps to save on time when creating the billings but also helps to avoid any errors with the financial information.
ProjectPro also includes Contract Billings with and without AIA formatting. These billings can also be processed with or without retention that can be set at the job level or assigned individually to the contract lines.
Implementation & Migration Support
Due to the steep competition in the subcontractor industry, it has become even more important to replace outdated technology. Subcontractors looking to boost their business and increase their revenue should make the switch to a fully-integrated software solution. The process to implement a construction management system will require implementation and migration support.
Subcontractors should look for the implementation and migration plan that aligns with their specific needs. This plan should include a detailed training schedule for user on boarding, master setup and internal process discussions and go live data migration details.
Organizational Training
Business transformation is more of a priority for those who need to meet their objectives or have failed to meet their goals. Achieving the digital business transformation not only involves the implementation of the software solutions but working on the training process.
Training helps to ensure that all the project teams are well-informed about the IT process and can track the project progress for added profit margin. The training portion of the implementation is valuable internally as it prompts discussions and process changes within your organization. This allows you to lean out and streamline your processes for a fresh start with a new system.
Reporting Features to Seek for Business Direction
Using construction accounting software can contribute to business progress as system dashboards can help teams assess performance metrics. Users can utilize their software dashboard to track cash flow for different activities and operations while checking for finances, resources, billings, payments and purchases.
Moreover, it allows project managers to quickly check for cash flow patterns to observe the business trends which can be used to drive future bidding and business development practices. In addition, performance metrics can be studied to identify variation in business performance which can allow better reporting and improve business direction.
Conclusion
Using construction accounting software is intuitive as it can help users identify visible trends related to projects. The system houses all historical data and transactions, which help the users, avoid unnecessary risks and align with the project lifecycle. This data can also help to maintain the financial stature of the business and management practices to facilitate growth within the project pipeline.
All in all, choosing a top-rated construction accounting software can bring business versatility to subcontractors who need custom features and robust reporting. And choosing the right software at the right time can bring subcontractors the power and flexibility required to have a competitive advantage within the construction industry.
Are you a construction subcontractor who is looking for construction accounting software that brings you a reliable platform, customized features, and best support on migration, implementation, and training?
Consider ProjectPro, a construction accounting and project management software that brings with it 20 years of experience with the best of Microsoft Dynamics 365 Business Central capabilities.
To know more, plan a quick consultation call with our experts today!