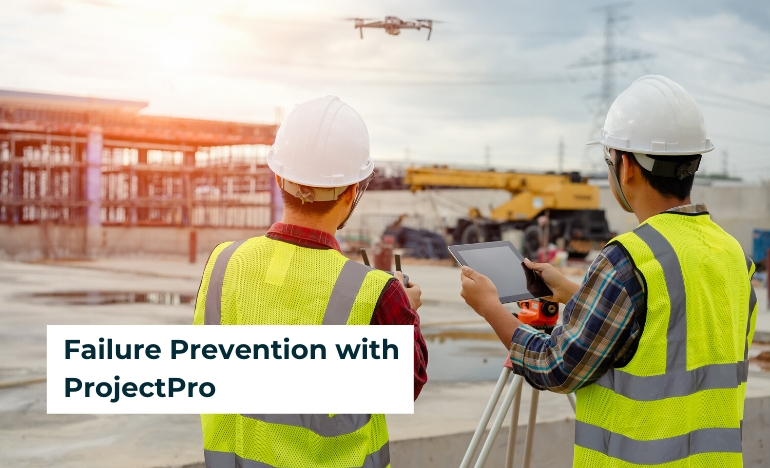 Preventing Failures with Successful Construction Project Management​
When it comes to the success of construction projects, the entire success of the project depends on best practices and effective project management. However, achieving such goals with perfection is not as easy as it seems. But still, when you have a strong planning and reliable construction project management software, you can take the effort to work things in a better way. At ProjectPro, our team of professionals has developed a list of tips that can help you gain control of projects by preventing failures and ensure successful deliveries.
Start with Preciseness in Estimation
The first thing which you need to target is working on the estimation part since it could heavily affect the outcomes. Therefore, it becomes crucial to avoid guesswork and work on clear data analysis. This should include a detailed estimate of the costs and the progress charts to depict the S-curves. When you are aiming for the successful delivery of the project, make sure you have estimation as the priority pre-requisites. This will help you secure reimbursements as the right estimation could help you stay closer to budget and deliver within the expected deadline. Though it may appear as a challenge, the inability to work on the right estimate may bring you loss due to cost overruns and late deliveries.
Make Reconsiderations A Habit
When you work on cost reconsiderations, it gets easier for you to keep aligned with costs related to the construction project. This may require a detailed check on cost imbalances and over-expenditures. Though most high-level construction projects require a lot of time taking reports on the costs, using a construction project management and accounting software could help. Moreover, it can benefit from improving the speed of decision making with better knowledge of cash flow along with careful monitoring of expenditures, measuring project curves, and prevent duplication errors in spreadsheets.
Subcontractor Management
When you are managing subcontractors, it may consume a large amount of time if you do not have accounting software for subcontractors. When you have a system to keep a check on subcontractor data, it helps you track all the essential information related to contracts, renewals, payments, etc. Also, it can help you verify important subcontractor data related to qualifications, insurance, authenticity, tax status, etc. Also, the project management software in construction could help you store all data in timesheets related to tax and billings. This means you can stick to the expected schedule by assigning your workforce in the right way.
Resource Allocation
When you work on commercial construction projects, it becomes crucial to work on resource allocation for assigning the best people to do the work. Though most construction firms rely on communication software and spreadsheets to keep track of allocation, transferring all the information to records from one source to another could take time. On the other hand, when you are using scheduling construction software, it gets easy for you to work on information related to project progress for improved time management. Using an intelligent solution like Dynamics 365 Business Central could help you with digital planning through graphical representations of data and manage resources for optimum performance.
Timesheets are a must
Timesheets area commonly used tool that isavailable on most sites. However, keeping manual records may lead to misplacement of information. Also, when you are relying on paperwork, it leads you to the risk of mistakes during transfer. Therefore, you should aim to keep all your data on the system and ensure that all your payments made on time. When you are using cloud-based integrated construction management software, it helps all the staff and workers keep or access data on timesheets.
Efficient Equipment Management
Construction sites are all about equipment and loads of material. Therefore, it becomes crucial to work on every aspect of the construction project whether it is related to resources or activities. When you are working on your construction project management goals, make sure you are informed of the needs of the projects. Moreover, it is essential that you must use your resources wisely and prevent the keeping of any hired equipment that is not in use for a long time. In other words, you should only rent equipment or resources when it is essential for the completion of activities.
Collaborative Workflow Approach
Last but not least, you should always keep in mind that managing all project data on record is essential for timely completion. However, when you need to achieve such goals, the involvement of staff, employees, project owners, subcontractors, and any other groups makes it difficult to keep things aligned. During such a situation, you can simply turn towards project management software in construction to improve efficiency. This is because a cloud-based solution with a power of Dynamics 365 Business Central could help keep every single person associated with the project aligned well. In other words, it is called a collaborative workflow approach which not only helps to save time but complete tasks smoothly.
The Crux
With time, the use of technology in the construction world has grown exponentially. Also, the advancement in technology has paved the way for improving the project pipeline. Therefore, when you are using integrated software for your project management goals, it gets easy for you to work on all the aspects of project development from estimation to delivery. Good Luck! Looking for construction project management software that can help you work on costs, job tasks, activities, and finances? Get a free demo to ProjectPro, a construction accounting and project management software designed to help you streamline your project goals and ensure productivity with revenue.