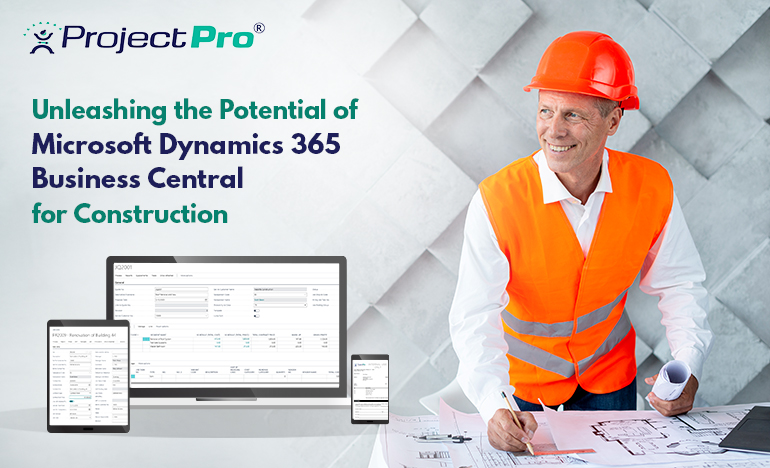 Unleashing the Potential of Microsoft Dynamics 365 Business Central
ProjectPro is an advanced construction accounting ERP software that has the potential of Dynamics 365 Business Central technology by Microsoft. It has got all the essential features that are necessary for project management such as keeping track of resources, working on finances, customer relationship management, and more.
Moreover, the advanced business capabilities of Business Central such as Office 365, Cloud, and power BI makes it enterprise-specific when it comes to construction accounting software needs. The executive role center, easy to access data dashboards, and integration options are certain features that make it a perfect companion for the construction business.
Some of the most essential modules which you can explore with ProjectPro include: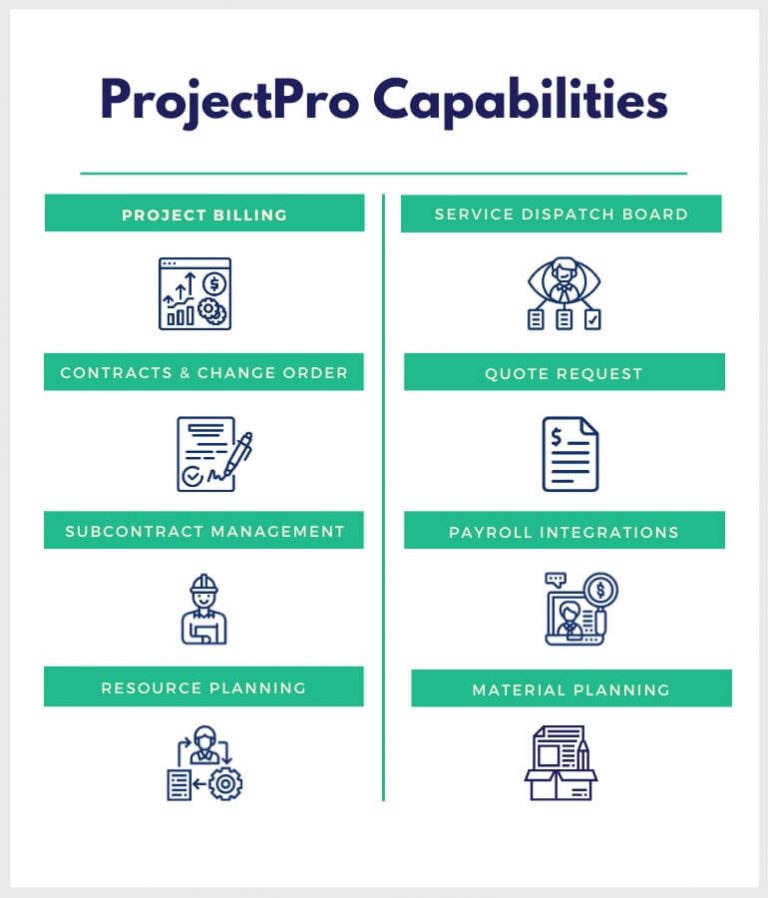 Project Billing: ProjectPro could help generate accurate billings and invoices based on the consumption of resources or even for lump-sum contracts.
Contracts and Change Orders: Manage massive project orders with an easy breakdown of change orders or contracts for architects, engineers, project owners, contractors, and more.
Subcontract Management: ProjectPro allows easy subcontract management either it is creating a new subcontractor manages work for multiple projects at the same time. It can also help in accessing lien release waivers and insurance certificates.
Resource Planning: From labor to equipment, ProjectPro can be used to update costs and prices related to every entity and resource for accurate cost checks and billings. It allows defining special costs using cost matrix as well as linking of employee cards with labor records for more precise management.
Quote requests: ProjectPro is an advanced software for the construction industry that used D365 Business Central features like office 365 to manage quote requests and RFQ data. Moreover, Power BI features can help you place smarter bid decisions in order to drive more sales.
Payroll Integrations: You can easily work on extensive accounting data using the payroll integrations feature. It allows you to integrate with ADP, Paychex, Payroll NOW, Paylocity, along with certified payroll reporting benefits.
Service Dispatch Board: Easily delegate jobs to your staff and improve the efficiency in the tasks using Service Dispatch Board. It allows you to check the employee timeline and their geographical location to ensure better resource management and productivity with the services.
Material Planning: Since the material is essential for construction, ProjectPro can be used to work on material requirements, schedule orders, purchase orders, or requisition worksheets for best use of resources during activities while maintaining the supply chain.
All in all, ProjectPro is designed to establish a competitive advantage by simplifying essential business activities, processes, and operations. It not only helps control costs but ensures that all project-related activities can be completed at the right time and within the budget.
Since it is based on the latest Microsoft Dynamics 365 Business Central, ProjectPro can be customized according to construction accounting and business management needs either it is critical accounting, job quoting, labor or equipment management, project management, subcontract management, material planning, or enhancing customer relationship management.
Moreover, the advantage of having all the data available at a common destination that is easy to access makes it very convenient for the stakeholders to take with their roles and responsibilities.
Learn more about the ways ProjectPro could help the construction industry and take your business in a better direction. Read our blog!
Interested to learn how ProjectPro works and in what ways it can benefit your construction business? Schedule a demo today!