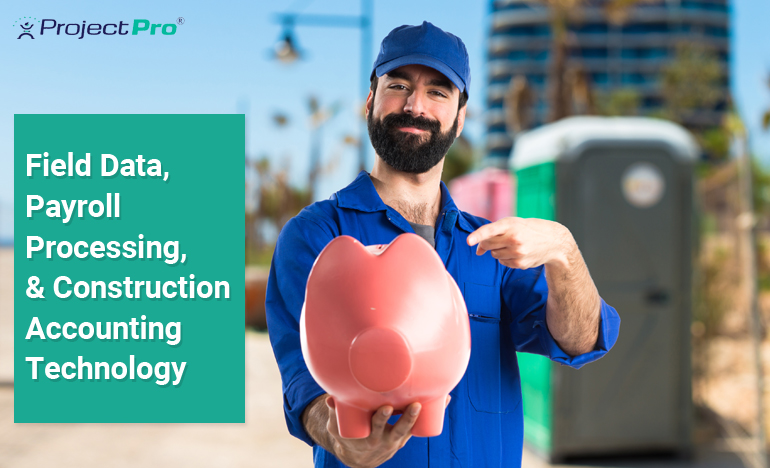 Even though the construction industry has evolved to a great extent, most project managers and contractors still struggle to work with field data collection and payroll processing.
With construction firms missing essential features like timesheets capabilities in their construction accounting software, they are forced to deal with the task of reviewing physical timecards. Since it requires both the payroll teams and project managers to identify and rectify incomplete, erroneous, and illegible timecards, the task may be laborious whether it is for weekly or bi-monthly payroll reports.
On the other hand, contractors who have automated time recording systems have trouble transferring information to the payroll systems. Because the data transfer to third-party payroll software involves manual efforts, it increases the chances of human error.
However, the future of field data processing and payroll management involves technology that can help contractors avoid such errors. This can be done using integrated construction accounting software that allows seamless data transfer from timesheets to the payroll management system, saving time, and preventing error.
The Essentials For The Present And The Future
The introduction of construction accounting and project management software technology has helped contractors and construction firms experienced significant improvement with project workflows from the past two decades.
But if there is one factor that has consistently damaged profit margins, it was the inefficient technology that operated well for the offices and not for the fields. The handwritten documents and manual data transfer not only created errors but have resulted in process inefficiency.
However, unwanted loss of revenue can be prevented by making a transition to advanced construction project management software technology. These solutions can be used to improve communication while delivering control over accounting, CRM, and ERP functions.
Also, mobile benefits can give more power to the project managers, allowing fast and easy data sharing with project owners while supervising the site. This can also give more time to the staff to work on tasks related to business development since they will not be logging information in Excel worksheets or other paper-based reports.
All in all, a more streamlined workflow and improved management could help contractors to drive business in the right direction with this win-win strategy. Also, through reporting and error-free work, you may help open up opportunities for more progressive construction plans with existing clients.
Need For An Improved Approach
As far as the construction industry goes, if you are using software that does not allow integrations to maintain a flow between field data and your payroll management system, you are simply wasting your time and money.
The improved approaches to business demand the best construction accounting and ERP software technology that can help manage finances and resources. And when you have access to so many options available in the market, what is keeping you from eliminating the stress of manual work with payments?
Concluding it all, it is the time to make smarter technology decisions that can help with more accurate payroll processing through integrated accounting features.
Good Luck!
Looking for construction accounting software that can help you with integrated payroll processing? Try ProjectPro, feature-rich construction software designed to bring accuracy and upgrade your profit margins through precise timekeeping and the finest payroll management support. Call now to schedule a free consultation session!