Leader of Innovative Technology, Travis Voss take on Digital Transformation in Construction Sector.
When we talk about the future of the construction industry, it is more of a technology and data-driven process. Even the present-day construction project management software relies heavily on data and insights to ensure construction best practices. However, a large portion of the industry including the giant firms, contractors, and subcontractors before 2020 were all a bit hesitant about the technology and tools.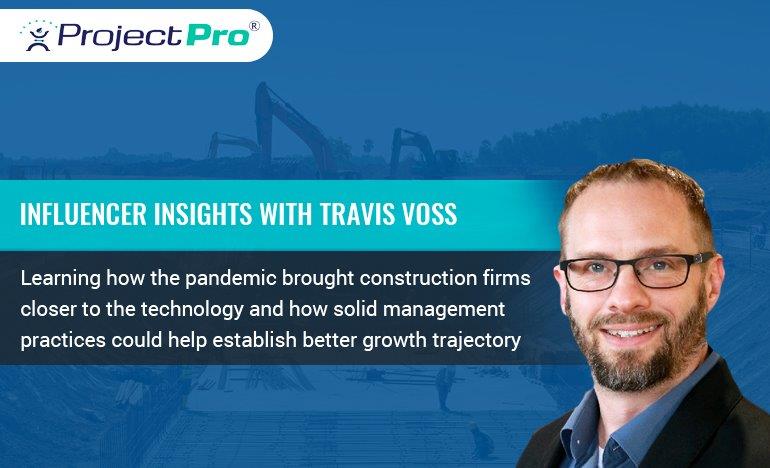 Who did we Interview?
Travis Voss, Leader of Innovative Technology at Mechanical Incorporated.
From his on-going projects/initiatives to the future of the construction industry after the post-pandemic times, Travis Voss heavily emphasized the necessity of technology when asked about laying the foundation of a successful construction business."
Let's have a quick understanding of our expert's take on our questions:
Question 1: What projects/initiatives are you working on at the moment?
I have several initiatives going at once. We are pushing more reality capture on job sites, more data collection at the workface, pushing more real-time information to the workers in the field, and continuing to push and grow our fabrication processes. We're also always growing and pushing our VDC capabilities and trying to streamline and standardize processes so we can collect and report on cleaner data.
Question 2: How do you look at the construction industry in 2021?
I think that the pandemic opened the eyes to the necessity of technology used in construction. Being able to work remotely and from a distance opened up deeper adoption of a lot of platforms and I don't think all of that will regress once we're opened back up to whatever level is newly acceptable. We have continued to do more with less and to still have compressed schedules while the complexity of the jobs goes up.
Question 3: What potential do you see in construction management technology for a successful construction business, especially when we talk about recovery and growth after the pandemic?
Being able to manage your projects through the use of technology will go a long way to executing the work as I described in the previous question. Companies that know how to read the tea leaves in the data of their projects will be the ones that earn high margins and better survive any downturns that potentially continue in different sectors because of the pandemic and then those lessons will help them grow revenue further when the industry resumes its growth trajectory..
Question 4: Few tips would you like to share with other construction firms, contractors, and subcontractors? Anything which according to you can help add value to the business?
Speaking from experience, we need to put more focus on starting with the field. BIM and PM-type workflows are flashy and easier to implement in the more controlled office environment and with people who tend to be on computers all day. As several of my colleagues have said, we can't forget that the men and women who put work in place are the ones that really help pay our salaries. We need to make sure what we are doing makes them safer and more productive. Another word of advice is to not solely focus on ROI. Often times, we don't go back and re-cost mistakes we didn't make. It doesn't take much-avoided rework to justify the cost of an iPad, HoloLens, laser scanner, or robotic total station.
More Details
Travis Voss, Leader of Innovative Technology at Mechanical Incorporated. Helm Mechanical has developed a reputation for being one of the leading providers of mechanical contracting on highly technical projects.
Their work and partnerships showcase what is possible for industrial construction projects, and maps a blueprint for faster, leaner, and more effective outcomes.