Renowned People's Trainer, Brent Darnell Views on Digital Trends in Construction
The inflow of unskilled workers is one of the major problems in the construction industry, leading to accidents and injuries on job sites. The construction sector doesn't have enough skilled workers to fulfill the growing demand. This may be due to the reasons like less awareness about the benefits of working in the construction sector among millennials, absence of free training opportunities, and skilled workers retiring without properly passing their knowledge to the younger generation.
So, investing in training the new workforce is the only option construction project owners have to fulfill the labor demands. In today's chapter on influencer insights, we will talk to one such person who spent many years of his life while helping the construction industry in solving the critical labor shortage issue using his expertise in emotional intelligence and critical people skills training.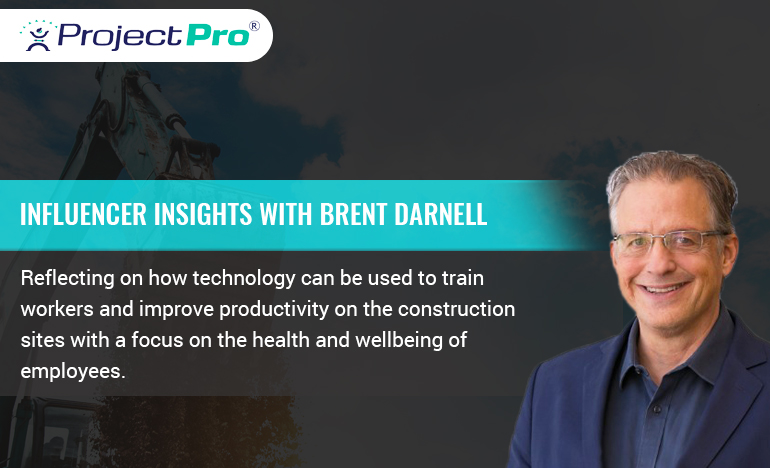 So, let's get started.
Who did we Interview?
Brent Darnell is an author, speaker, engineer, publisher, and people skills trainer helping construction project owners and managers fulfill their demand for a skilled workforce. He helps train construction workers into service-focused leaders through emotional intelligence, online courses, and leadership programs.
Let's quickly get to our expert's point of view
Question 1: What projects/initiatives are you working on at the moment?
I am working on online courses for the AEC Industry that address all of the industry's "people issues" by focusing on emotional intelligence and critical people skills. We also cover many industry issues like workforce development, stress management and mental health, safety, lean, diversity and inclusion, and innovation and creativity.
In addition, there is a major focus on creating peak levels of mental, physical, and emotional performance. We are also starting to adopt the use of VR and AI to create learning scenarios that are different every time based on the learner's input.
Question 2: According to you, what Construction Technology and Management Trends could make maximum impact on the Industry in 2021? How Technology Will Enable Construction Continuity in 2021?
I think the execution of projects using more technology solutions will not go away. An example is using electronic boards, you can do pull planning online. Folks can dial in from anywhere in the world.
This will become the standard. For training workers as well, I believe, construction firms will now widely use VR and AI so that learners can have a discussion with a "person" using video game quality characters on multiple topics and the AI will carry on the conversation and give the learner a response based on their input.
Question 3: What potential do see in construction technology for leveraging overall business productivity with construction projects, especially when we talk about recovery and growth after the pandemic?
With this remote way of working, you can reduce travel and increase connection. Offering personal leadership classes online will enable people to create their peak levels of mental, physical, and emotional performance at their own pace from anywhere. The downside is that you are always on and this is increasing working hours and stress.
Question 4: Do you believe COVID-19 has turned to be the Catalyst for Digital Adoption? Do you think the trend will sustain once the pandemic ends?
I think it's the beginning of digital adoption, but if it is not reinforced, and if technology doesn't continue to improve, the industry will fall back into old patterns. We are very resistant to change.
More About Brent Darnell
Brent Darnell is an expert in training workers through Emotional Intelligence and an international best-selling author. He is the owner of a training and counseling organization that helps construction firms improve collaboration and communication with a focus on the wellness, health, and performance of their employees.