VP of Project Diversity, Dr. Giovanna Brasfield on Construction Digital Transformation
There is a growing focus on diversity across the construction industry. This is leading to an emergence of a connected ecosystem of a construction workforce with various backgrounds. The deployment of technology is benefiting the construction ecosystem in many ways as new and innovative ideas are now shaping this space.
As technology will continue to change the construction landscape, it will also become more open and inclusive for a younger and diverse workforce.In today's chapter, we will have a conversation with Dr. Giovanna Brasfield, an advocate, leader, and change agent within construction who is driven from the inclusion of others within construction and construction-related trades.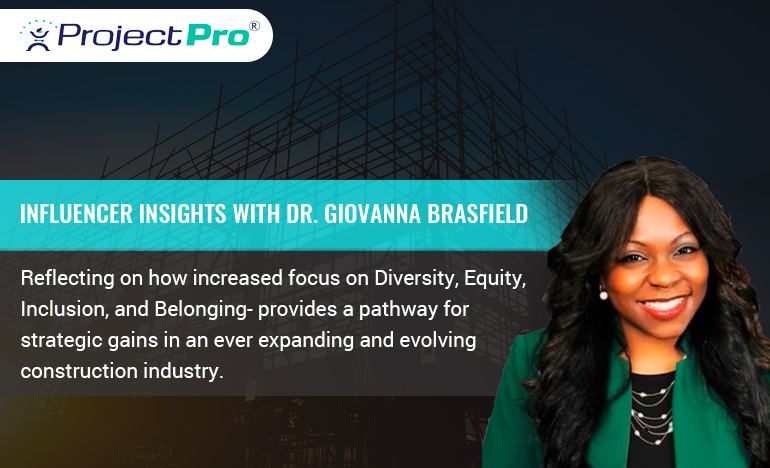 Who Did We Interviewed?
Dr. Giovanna Brasfield is a champion of diversity and inclusion projects in the construction industry. She has been bestowed the "Game Changer" accolade by "Diversity Professional Magazine". "Dr.G" has also been identified by construction industry bloggers as one of the 2020's and also the 2019's "Top 50 Construction Influencers" across the United States.
Let Us Quickly Get To Our Expert's Point Of View.
Question 1- What projects/initiatives are you working on at the moment?
I assist the Southwest District Manager and the Division Manager in meeting contractual requirements on current projects and upcoming project pursuits that engage women, diverse businesses, local workforce, and youth. Currently, I am leading the Inclusivity efforts on one of our Joint Venture projects in Los Angeles and providing advisory assistance to other projects throughout our division.
Question 2: How do you see the construction industry in 2021?
I see my role in the construction industry as an opportunity to influence policy, as well as refine procedures. I see an opportunity to have a positive economic impact in diverse communities and change lives. There is such a growing focus in organizations on committing to a culture of diversity and inclusion both internally and externally. In 2021 and beyond, I see that commitment becoming stronger and roles like mine supporting that business imperative. Externally, organizations can help diverse individuals transition into workforce development, while driving business growth. They can foster youth engagement initiatives and re-entry programs that lead to productive careers. People in roles like mine can help in these efforts while also assisting organizations internally to attract and promote talent, improve workplace culture and drive overall business strategy.
Question 3: What potential do you see in construction management technology for a successful construction business, especially when we talk about recovery and growth after the pandemic?
Construction management technologies will continue to improve field operations and construction productivity resulting in the implementation of streamlined processes and easy-to-use cloud-based applications. We'll likely see the use of virtual platforms to modify or integrate the construction schedule or check on permits and plans in real-time across the construction job. The U.S. Bureau of Labor Statistics projected an 8% increase in job growth for Construction and Project Managers from 2019 to 2029. This is driving the need for more technology to support construction growth.
As we continue on the road to recovery, I expect we'll see increased use of construction monitoring software to enhance innovation capability and improved accessibility through hand-held applications using smartphones and other mobile devices. The improvements in construction management technology will continue to give superintendents, as well as foremen, the ability to instantaneously file reports or modify the schedule from the field. Recovery and growth, after the pandemic, will provide additional possibilities for technology and the use of cloud-based applications that could improve efficiencies and potentially help control costs.
Question 4: Few tips would you like to share with other construction firms, contractors, and subcontractors? Anything which according to you can help add value to the business?
This is such a great question with all that businesses are faced with in today's road to recovery. Initiatives implemented over the past decade within the construction industry have helped create opportunities for economic growth for diverse individuals who've often been overlooked. I believe the increased focus on Diversity, Equity, Inclusion, and Belonging provides a pathway for strategic gains in an ever expanding and evolving construction industry.
More Details
Dr. Giovanna Brasfield serves as Senior Supplier Diversity and Community Inclusion Officer, supporting diversity and inclusion in the construction industry. She assists in meeting contractual requirements on current projects and upcoming project pursuits that engage women, diverse businesses, local workforce, and youth engagement.