Know the Existing Position of the Construction Industry with Christy Crook, President of a Masonry Subcontractor Firm
The construction industry has always been recognized as a business that demands more effort and has less to return with a profit margin. Especially, when the situation has turned to be quite unfavorable for the contractors and construction firms due to an entire year affected by a global pandemic, it becomes even more important to plan ahead of time.
Since there can be no person better than a construction expert and founder of a masonary contractor firm to seek the necessary advice, here we bring you another chapter of influencer insights concentrating on the new normal, construction technology, and a flexible business approach.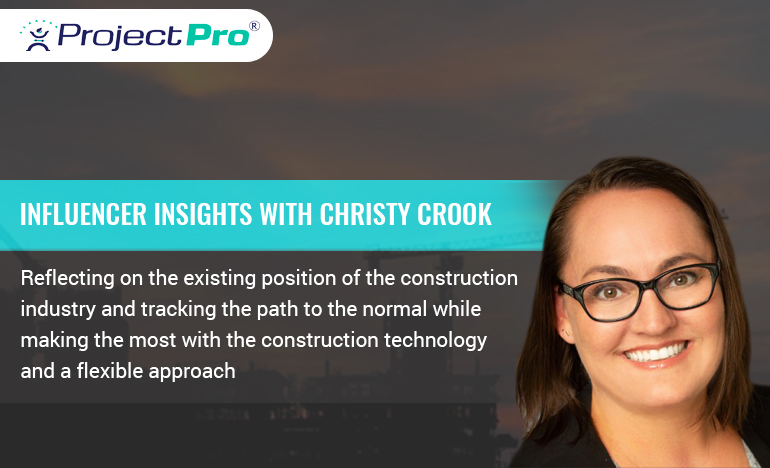 Who did we interview?
Christy Crook, founder, and president of a masonry repair firm. Christy has worked at multiple masonry construction firms in various roles, including safety director and director of business development until she left to found her own company in 2010.
Let Us Quickly Get To Our Expert's Point Of View.
Question 1: What projects/initiatives are you working on at the moment?
We are on a number of projects ranging in size from $10k to $520k. While we work on a multitude of commercial construction projects, we have recently focused on building our backlog in infrastructure work, including Transportation and Water Treatment. We saw an approximate revenue reduction of 30% in 2020and are concentrating on returning to our normal rate of growth this year.
Question 2: How do you look at the construction industry in 2021?
I feel bullish on the construction industry for the second half of the year. I think that delayed projects will come back online, and the current administration's infrastructure plan will add to the pipeline. I also anticipate increased materials costs, while having to keep our prices relatively level. The volume will likely increase, but profit margins will possibly shrink in the short term, returning to "normal" levels next year. Increased competition will result in lower prices, but also in some projects needing to be taken over by a more expensive subcontractor to complete. Owners only looking at the bottom line rather than the most qualified bidder will be on the hook.
Question 3: What potential do see in construction management technology for a successful construction business, especially when we talk about recovery and growth after the pandemic?
I think the construction industry as a whole will be thrust into leveraging technologies that they don't have much experience with. Training is going to be paramount to achieving buy-in, particularly with smaller companies who maybe don't have the resources to afford expensive technologies, added to the cost of training.
I think that project management technologies are mostly focused on the General Contractor market. It would be great to see programs directed to the specialty contractor's needs. In my opinion, construction is one of the most collaborative industries there is. Technologies to aid in collaboration will go the farthest in improving recovery and growth as we emerge from the pandemic.
Question 4: Few tips would you like to share with other construction firms, contractors, and subcontractors? Anything which according to you can help add value to the business?
The biggest thing I've learned during the pandemic is that flexibility is the key to getting through it. We can't control the pandemic, but we can control our response to it.
Take advantage of the PPP and EIDL programs. They have been instrumental in our survival during the pandemic.
Spend time on your marketing. Make sure your customers know that you are not just surviving, but perhaps thriving. It's important that they know how you are making it through this time, and the steps you're taking to make yourself a stronger and more resilient company for the future.
Prepare for upcoming demand to increase, pretty significantly, as we come out the other side of the pandemic.
More About Christy Crook
Christy earned her BA in organizational communication and business management from the Metropolitan State University of Denver in 2002, followed by an international MBA from the University of Denver in 2007.
Christy is an active member of the American General Contractors Association, Rocky Mountain Masonry Institute, and the National Association of Women in Construction. Also, she sits on the board of the American Subcontractors Association as well as Transportation and Construction Girl, a nonprofit that encourages young women to explore careers in the transportation and construction industries.