Interaction with Tyler Campbell on the Latest Construction Technologies
As the construction industry is moving towards digitalization, staying ahead of competitors and delivering excellent solutions to customers has become crucial. Using the right set of tools, assigning the right job to the labor and managing processes, is crucial for being consistent in the market.
This is why ProjectPro came up with the Influencer Series and interviewed Tyler Campbell, a construction builder and storyteller.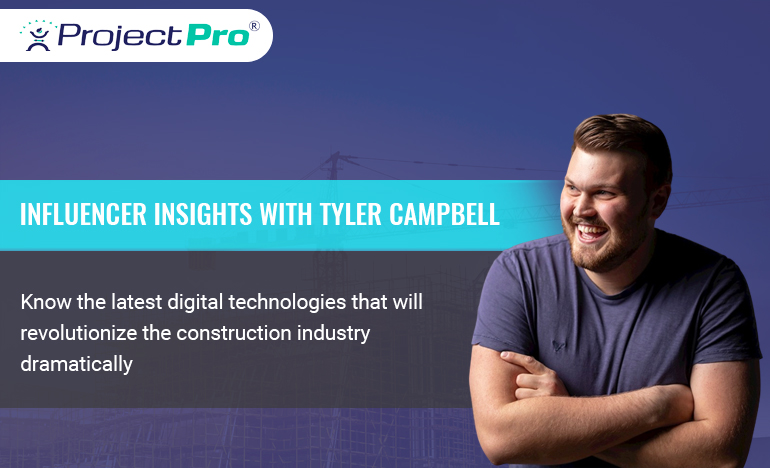 Who Did We Interview?
Tyler Campbell is a builder and storyteller with a decade of experience in modeling and detailing structures of all shapes and sizes. Presently, he created encouraging content for his construction brothers to help them thrive.
Let Us Quickly Get To Our Expert's Point Of View.
Question 1: In the age of COVID-19, how do you see the construction industry in the year 2022? Do you think this year will be a "digital year" for construction professionals?
Yes. I do believe that this will be a digital year. But I do believe that every year that I have been in the industry has been a digital year. We've been moving more and more online, just every year, since I got into it. Not much has changed in that regard. I think the thing that has changed is we're seeing a lot more technology options. And so, it is so critical for us as we move into this digital year.
Question 2: The construction industry has undergone dynamic changes over the years. What do you consider as the biggest challenge for this industry now?
I think the biggest challenge is to get back to the people. So often we use technology as a crutch to solve all of our problems. Technology is a tool and so we need to stop looking at it for beyond and all answers for everything. So the biggest challenge for the industry now is to start getting better at humane actions—getting back to empathy skills, soft skills—I think these are the hardest things that we've in front of us.
And the only way we can make the industry better is by having the people actually interact with one another and get better interacting with another. Otherwise, it will just continue to get downhill. Because, people are the ones who solve the problems, not necessarily technology. Technology is a great aid, but we suddenly have to work together. So working together as a people is also a challenge for the industry.
Question 3: What potential do you see in the latest construction technology trends? Are they capable of boosting the productivity of construction professionals?
Yeah. They are capable of boosting productivity. But at the end of the day that responsibility relies on the people using the tool.
Question 4: Where do you see the construction industry in the next five years? Please share your valuable insights with our readers.
I would like to see the construction industry as a safer and more attractive place for people to work. I would like to see it as a place that is a lot more encouraging, a lot more empathetic and a lot of kids are excited to be a part of the industry. That's where I want to see the industry in the next five years.
But the reality is that we need to do a lot of work. So if we hit that goal I have to continue to put a lot of content out there and continue to encourage people and share ideas.
Get to Know Our Influencer
In four words or less, what's your prediction about the transforming construction industry?
It's all about people.
What's your success mantra?
Always be a helper.
More Details
With two years into his apprenticeship, Tyler fell in love with Logo Design, which quickly grew into loving User Experience (UX), Photography, Videography, Typography, SEO, Marketing Strategies, and Sales. So he also hired construction professionals with branding and improving online visibility.