Discussion with Tal Friedman on the Latest Digital Trends in the Construction Industry
Challenges have invaded the construction industry, such as project delays, uncertain planning and management, and cost overruns have become common. With digitalization, construction contractors and project owners can mark on a growing array of creative solutions to handle these challenges. As vowing as these new technologies are, will they actually make construction easier?
This is why we interviewed Tal Friedman to understand his perspective on the latest digital trends.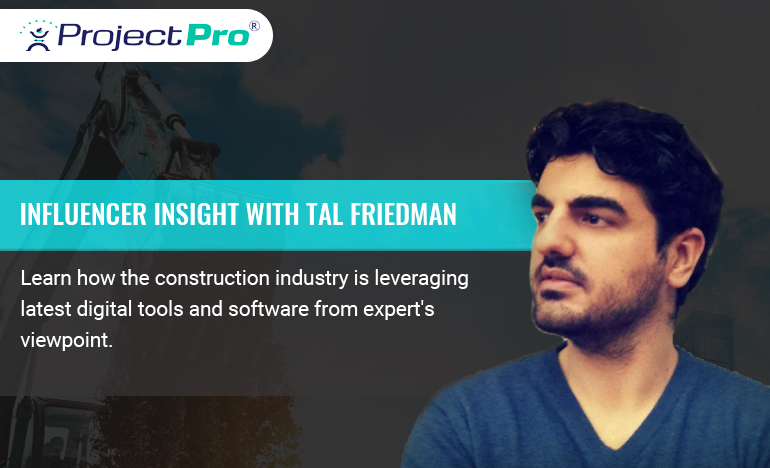 Who Did We Interview?
Tal Friedman is the Founder & CEO of Foldstruct that bridges the gap between digital and automated fabrication. He works to create complex forms using smart algorithms and robotic fabrication.
Let Us Quickly Dive into Our Expert's Point Of View
Question 1: In the age of COVID-19, how do you see the construction industry in the year 2022? Do you think this year will be a "digital year" for construction professionals?
Extreme times are often a stepping stone into new eras and 2022 is turning out to become the year of construction technologies.
I think Covid was a huge catalyst for digital workflows in construction that will echo far beyond the pandemic. We have been talking about the digital shift for years, but it took a slap in the face like Covid for the industry to finally jump in the water, simply because we had no choice.
Surprisingly, construction, which was perceived as a slow adopter of digitization and technology, has proven to be agile and flexible far beyond expectations. The results proved that digitization and automation are the keys to the industry's resilience.
Question 2: The construction industry has undergone dynamic changes over the years. What do you consider as the biggest challenge for this industry now?
In short: Building faster, cheaper, reducing CO2 and improving human well being. Construction is the largest industry in the world and its challenges are aligned with the burning needs of our planet.
There are still billions of people on earth without access to adequate housing, workspaces, or schools. On the other hand, mainstream construction is getting more and more repetitive and dull, creating harsh social consequences.
Oddly enough, we prefer buildings built 100 years ago to the ones being built today. That does not happen in many Industries and just emphasizes the problem. Our biggest challenge is to harness technology to make construction more feasible and adaptable. We are just scraping the surface of what is possible.
For this to happen, we must industrialize the sector and disrupt it from the inside out. We will see new methods, materials, digital planning tools and robotic automation springing up that will change everything we know. This has happened in fields like the automotive world, clothing, agriculture and more. Now is the time for construction. Can you imagine bringing the cost of building a home to 1/10 of what it is now? It will be a new world.
Question 3: What potential do you see in the latest construction technology trends? Are they capable of boosting productivity of construction professionals?
For sure. If we talk about productivity, the more we automate, the more efficient we are.
This is true for all professions, from the person on site to the planner behind the desk. To emphasize the potential, if you compare industrial profit of automated manufacturing for construction products, they have about 30-60% profit margins. In standard construction, margins stand between 3-15%. This should teach us a lot about the future of the industry.
Question 4: Where do you see the construction industry in the next five years? Please share your valuable insights with our readers.
I ponder around this question daily and believe that the next 5 years will bring a new type of prosperity.
I see buildings becoming more like products and less like one off projects taking years to design and build.
The name of the game will be "mass customization", which is the new holy grail of the industry. Using digital tools like we are developing at Foldstruct , we can reach mass customization even with standardized components and that will be a game changer.
Get to Know Our Influencer
In four words or less, what's your prediction about the transforming construction industry?
The revolution has started.
What's your success mantra?
As Henry Ford said: "If I had asked people what they wanted, they would have said a faster horse."
If you have an idea you believe in, make it, test it and bring it to the proving ground. Don't wait for permissions from market analysts, investors or committees. If it works, the market will come to you.
In order to disrupt, you have to swim against the stream. That is the essence of entrepreneurship and creativity and that is my belief.
More Details
Tal Friedman works in the realm of computational construction and digital fabrication technologies. He has a special passion for bridging industrial innovation and novel design. Using algorithms and digital tools combined with hands-on material research in order to create beautiful, cost- efficient and energy-efficient buildings.