Discussion with Mulalo (Sydney) Mudau on Rising Construction Technology
As we know, the construction industry has never been the most technologically advanced sector. However, the past few years have shown promising technological progress in the construction industry. It is helping construction companies to reach high levels of efficiency.
From safety training and casualty prevention to AR building assistance, technology certainly belongs on the drafting table and the construction site. Technology is also helping to fill the gap created by the labor shortage and increasing operational efficiency.
In this matter, we interviewed the construction industry expert—Mulalo (Sydney) Mudau to understand his perspective.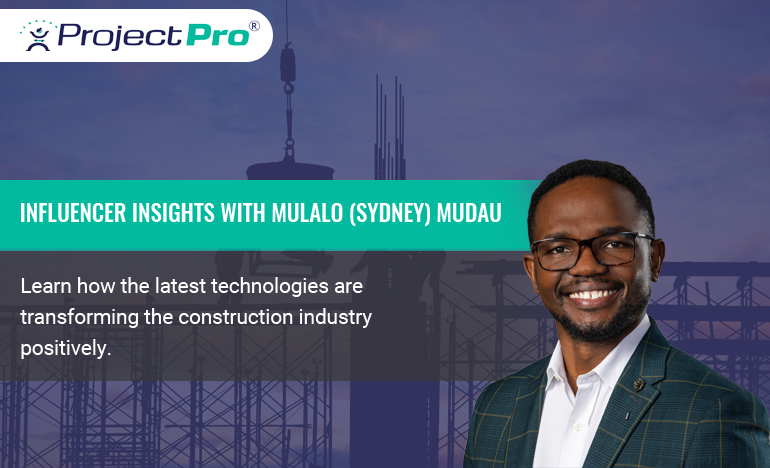 Who Did We Interview?
Mulalo is a Project Manager with over 20 years of international experience on major civil engineering infrastructure projects in private and government sectors in project management roles. He is also a member of the Board of Directors with PMI® Sydney Chapter.
He comprehensively contributes to developing client relationships through preparing proposals, tenders, estimating, scheduling, team coordination, cost reporting, executing, and handing over various projects.
Let Us Quickly Get To Our Expert's Point Of View.
Question 1: How do you see the construction industry in the year 2023? Do you think this year will be a "digital year" for construction professionals?
The construction industry has been using digital for some time now. Digital is a valuable tool for design and asset maintenance. But it needs to do a lot more for digital adaptation. More training is required, and IT systems have to be upgraded to suit. COVID-19 only highlighted the need for the industry to improve quickly.
Question 2: The construction industry has undergone dynamic changes over the years. What do you consider as the biggest challenge for this industry now?
The construction industry views a 6-day working week as the norm. Balancing ESG, diversity, and work-life balance with a 6-day week is a challenge.
Question 3: What potential do you see in the latest construction technology trends? Are they capable of boosting the productivity of construction professionals?
Some technologies could assist in process automation in project control, i.e., Power BI. But the industry needs to be trained to use these technologies to boost productivity successfully.
Question 4: Where do you see the construction industry in the next five years? Please share your valuable insights with our readers.
I see the construction industry putting more focus on reducing its carbon footprint. But other sectors, such as manufacturing, will likely be ahead. Hence the construction industry will probably be trying to catch up with the other industries. With decarbonization at the top of each country's target, the construction industry will have to innovate faster.
Get to Know Our Influencer
Question 5: In four words or less, what's your prediction about the transforming construction industry?
Continuous Improvement Implementation.
Question 6: What's your success mantra?
Not be afraid to step back to go forward.
More Details
Mulalo is a Principal Project Manager with years of experience in the construction industry. He is a highly enthusiastic, industrious, conscientious, reliable, and hard-working project manager.
He has worked on several projects, such as roads, railways, dams, water supplies, bridges, asset management, and mining infrastructure, amongst others, on greenfields and brownfields.