In Conversation with Lew Schulman to Understand the Dynamics of Construction Technology
Construction technology is an ever-evolving area that has transformed how we design and build structures. With advances in materials science, artificial intelligence, robotics, data analytics and 3D printing, construction technology is poised to revolutionize the industry.
From virtual reality simulations to autonomous construction vehicles, these new technologies are changing how we work and increasing efficiency and safety on construction sites.
As the demand for sustainable and resilient buildings grows, construction technology will continue to play a critical role in meeting these challenges and shaping the industry's future.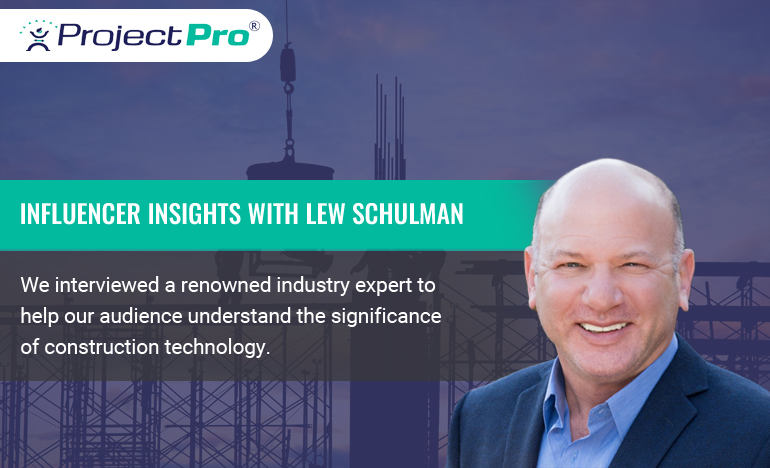 Who Did We Interview?
Lew has, throughout his career, been an innovative social entrepreneur, tackling diverse social problems in multiple industries. Over a diverse career, that experience has helped develop and apply scalable solutions to complex global social issues.
Lew is leading a renowned technology company (Co-founder) in the US. It is an end to end Mobile Platform for the construction/housing space in developing countries with partnership contributions from IBM and MasterCard Innovation Labs.
Let Us Quickly Get To Our Expert's Point Of View.
Question 1: How do you see the construction industry in the year 2023? Do you think this year will be a "digital year" for construction professionals?
I believe the construction industry for tech is improving. However, there is still a long way to go to improve production.
Question 2: The construction industry has undergone dynamic changes over the years. What do you consider as the biggest challenge for this industry now?
The biggest challenge still remains in emerging markets. Most construction tech is too complicated or too expensive for the majority. More than 80 percent of housing construction is self-build, and that has not changed. Lack of credit and a large informal sector are still a challenge for tech as well as low literacy rates.
Question 3: What potential do you see in the latest construction technology trends? Are they capable of boosting the productivity of construction professionals?
Certainly capable in specific areas, however a marketplace approach on the digital side would vastly improve production and access to good resources in emerging markets.
Question 4: Where do you see the construction industry in the next five years? Please share your valuable insights with our readers.
I believe it will continue evolving as fintech/proptech becomes easier to use and affordable for the masses. Technology will become a more common tool in the toolbag for a significant portion of the population.
Get to Know Our Influencer
Question 5: In four words or less, what's your prediction about the transforming construction industry?
The construction industry needs to continue to work on providing innovation in the process management space to enable the self-build space to gain momentum without solutions for this largest segment of the housing production market.
Question 6: What's your success mantra?
"I am the only one. But I am one. I cannot do everything, but I can do something. And I will not let what I can do interfere with what I can do"- Edward Everett Hale.
More Details
Lew Schulman is a dynamic serial entrepreneur, philanthropist, and speaker. He aims to create affordable housing through a series of both public and private partnerships that are forged upon sustainable growth and interaction with local communities. One of his podcasts on " Innovative Technology for the Construction Industry" has unleashed some enticing information on the latest trends.