Interacted with Jessica Lewis to Understand How Digitalization is Transforming the Construction Industry
Digital technologies are revolutionizing the construction industry, ushering in a new era of increased efficiency, productivity, and safety.
From 3D printing and Building Information Modeling (BIM) to drones and artificial intelligence, the application of digital tools and processes is transforming the way that construction projects are designed, planned, and executed.
With the help of digital technologies, construction professionals can streamline operations, reduce costs, and improve project outcomes, resulting in more sustainable, profitable, and successful projects.
As the industry continues to evolve and embrace new technologies, it is clear that the digital transformation of construction is here to stay and will continue to shape the future of the sector for years to come.
But to gain deeper insights into the same, we interviewed an industry expert to comprehensively understand the impact of this transformation: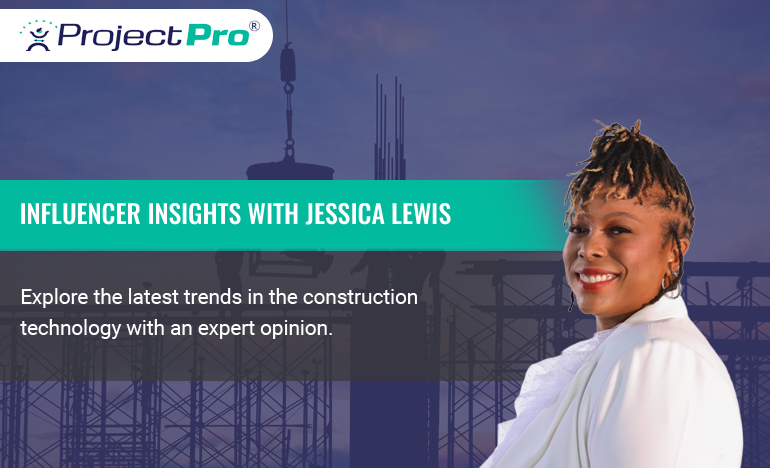 Who Did We Interview?
Jessica is the CEO of a renowned company, managing projects with proficiency, problem-solving, and great leadership. With 20 years of experience, her passion for shipping containers and green construction is all about helping people go green in a not-so-green world.
As a real estate developer and project manager, she truly values what she does; its impact on the world and our well-being are great, and its uses are endless. She can take your construction vision, simplify it, help you finance it if needed, and execute it easily and efficiently.
Let Us Quickly Get To Our Expert's Point Of View.
Question 1: How do you see the construction industry in the year 2023? Do you think this year will be a "digital year" for construction professionals?
I believe that the construction industry will make a hard pivot to digital and green construction based on the current physical global climate. Some things to note are the current climate is calling for the weather we have never seen or experienced.
As a result, the digital world will become more prevalent just because that's the only other climate option available. Web3 is fast approaching, along with the metaverse, and construction companies who don't have digital assets or are open to learning about the metaverse world will be left behind.
Green construction methods can use natural elements and take less time to build. Traditional materials are labor intensive, and building with them is equally labor intensive.
What are the contractor's going to do when there are no more trees? Why do you think JPMorgan Morgan just brought all those timber-heavy acres? They know traditional construction is becoming a dying art and are trying to resuscitate the industry that has perpetually benefited from slave labor before it goes into extinction.
The same is true for using digital products in construction and green building methods. We are a green tech company; we recently pivoted based on the reality of what the pandemic illustrated to us.
One gets sick, comes to work, gets others sick, and now everyone is out of work. Furthermore, getting sick and never coming back to work has happened. Lastly, get sick, self-reflect, and ask yourself, why do I work for this company again? Start your own business.
People realized there are other ways to make money in construction other than working for someone else and they can actually dismiss the manual labor behind construction by being in the digital world.
This new skill set will be invaluable for new tech construction companies like ours and other emerging professionals in this space.
Question 2: The construction industry has undergone dynamic changes over the years. What do you consider as the biggest challenge for this industry now?
For traditional builders, the cost of construction is becoming higher, and developers are barely making a profit.
As a result, you are seeing incomplete projects, forcing developers and builders to abandon their projects. This will continue to happen as finance options lessen and material costs rise. Both groups will have to pivot, or their business will die.
Question 3: What potential do you see in the latest construction technology trends? Are they capable of boosting the productivity of construction professionals?
There are so many construction trends that amaze me. One is the 3D printing space and AR/VR developments.
Being able to experience your project in "real-time" before it's built will be a great experience for the end user. It will seal the closing process because it allows them to resonate with the project fully and deeply before its finished.
As for 3D printing, the use of that technology will minimize the time to market for construction projects. I have seen units built in 24 hours and we can't wait to deploy this same technology using hempcrete.
Negative carbon concrete, mini splits, tankless heaters, and instant heat water tanks are also some other cool technologies we use in our world that cuts out tedious installation methods cutting build tike in half or more. What a way to be part of emerging green space.
Question 4: Where do you see the construction industry in the next five years? Please share your valuable insights with our readers.
I see it slowly perishing for lack of knowledge. Most traditional construction methods are wearing down construction practitioners physically, emotionally, spiritually, and financially.
We have to stop fighting tools that can make our professional lives easier. Why not hire someone who specializes in the digital or green space and let them do what they do? We also have a tendency to believe there is no way that technology works that way or we are so old school that our will isn't there.
Experimenting personally has helped us implement new technologies for our customer's projects. We suggest other practitioners do the same. The experiment then allows the customer to experience.
Get to Know Our Influencer
Question 5: In four words or less, what's your prediction about the transforming construction industry?
Pivot or Perish.
Question 6: What's your success mantra?
Life is what you make of it; what are you going to do?
More Details
She has also done a podcast for Forbes Books Audio and discussed the revolutionization of the real estate industry by developing affordable housing projects out of shipping containers.