Interviewed Henry Nutt, III to Understand his Perspective on the Latest Construction Technology
There are multiple hurdles in a construction project lifecycle. Project managers are tasked with keeping a site operating smoothly, safely, within schedule, and on budget. Sometimes, this is a tricky thing to do.
According to a study, 98% of construction projects come in over budget, and 77% go through many delays.
So, how are construction technologies helping construction companies overcome these challenges and stay ahead of competitors? We interviewed Henry Nutt, III, to bring his perspective to light on construction technologies: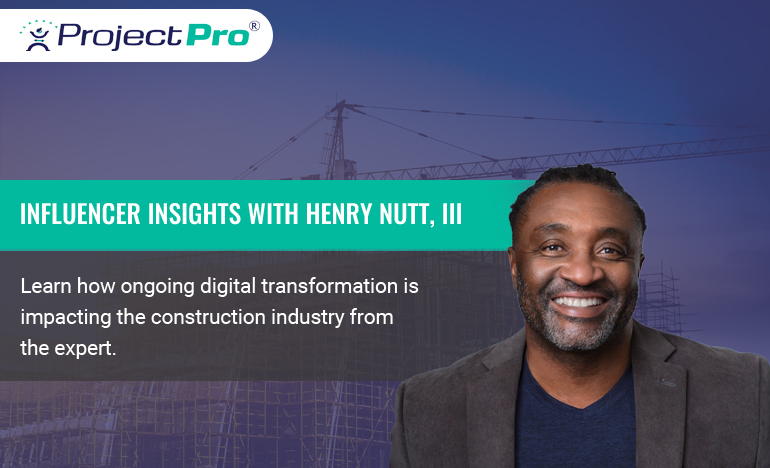 Who Did We Interview?
Henry Nutt, III, is a preconstruction executive, author, and thought leader with 35+ years of experience in the construction industry. Currently, he is a member of the Associated General Contractors of America (AGCA) national board of directors. He will be the 2023 Incoming Chairperson of the Lean Construction Institute Board of Directors (BOD) and a member of the CA State BOD.
He is the published author (2022) of the popular book "Seven Principles: Creating Your Success in the Construction Industry."
Henry believes one of the common issues construction professionals face today is their inability to find the core issues behind the lack of opportunities to discover real solutions. So his main objective is to educate construction professionals on how to effectively utilize lean tools, work as a team, and execute work efficiently with minimal waste.
Let Us Quickly Get To Our Expert's Point Of View.
Question 1: How do you see the construction industry in the year 2023? Do you think this year will be a "digital year" for construction professionals?
I believe the construction industry will continue to be robust, even with talks of a slowdown and recession. Certain markets will undoubtedly have some form of a slowdown, but others will thrive and keep the same pace of growth we're seeing today.
I think 2023 will be a "digital year" for construction professionals. The use of technology is exciting and provides so much value to our projects by strengthening our capabilities to be safer, more accurate, and more efficient with our time.
Question 2: The construction industry has undergone dynamic changes over the years. What do you consider as the biggest challenge for this industry now?
In my opinion, the biggest challenge in construction now is workforce development. Across the board, we are finding labor and operation staff shortages across many national projects. It has become an essential topic of discussion amongst construction leadership.
Question 3: What potential do you see in the latest construction technology trends? Are they capable of boosting the productivity of construction professionals?
As for the potential I see in the latest technology trends, robotics has great potential. I don't believe robots can fully replace what a human can do on a construction project. However, they can and will cause repetitive work to become faster and more accurately installed in some cases.
Yes, technology will be capable of boosting productivity for construction professionals.
Question 4: Where do you see the construction industry in the next five years? Please share your valuable insights with our readers.
In five years, I see the construction industry embracing more modular-type deliveries, a widely adopted use of technology to execute work, and more established procedures that promote safer job sites.
As a Diversity, Equity, and Inclusion Advocate, Lean Construction Institute Board Member, and the current Chair for AGC's national D&I steering committee, respect for people is critically important for the success of any project.
Adopting technology while adding Lean practices will undoubtedly improve the working environments of projects, improving psychological safety and producing a more welcoming environment.
Respective aforementioned organizations have placed a ton of emphasis on this issue, supported by teams of committed individuals who care about improving the construction industry.
They create opportunities for rich dialogue, which can be controversial and often uncomfortable but impactful when administered with thought and care.
Get to Know Our Influencer
Question 5: In four words or less, what's your prediction about the transforming construction industry?
Continuous improvement is vital!
Question 6: What's your success mantra?
I am hopeful about the future.
More Details
Henry Nutt, III, has volunteered for various institutes, such as City College of San Francisco (CityBuild Program), Vice Chair - Board Of Directors, Lean Steering Committee, and more. He was Recipient of Pioneer Award at the 20th Annual LCI 2018 for his excellent leadership in the design and construction industry.