In Discussion with Elvin K. Box for Understanding the Impact of Construction Technologies
Construction professionals are undergoing several challenges, and staying motivated to adopt new technologies such as cloud computing software and sensors has become challenging. Numerous challenges result from construction operations, while others are from peripheral activities. Some of the construction issues include workforce considerations, time constraints, safety, and the changing nature of the work.
To understand how these technologies will impact the construction landscape, we interviewed Elvin K. Box. Let's understand his perspective: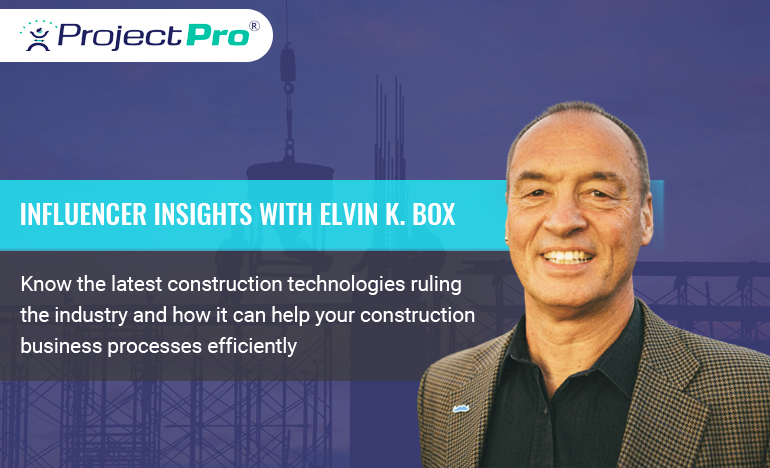 Who Did We Interview?
Elvin K. Box is an International Innovation & Technology Consultant guiding construction professionals on Proptechs and various other technological innovations.
Let Us Quickly Get To Our Expert's Point Of View.
Question 1: In the age of COVID-19, how do you see the construction industry in the year 2022? Do you think this year will be a "digital year" for construction professionals?
From my perspective, the construction industry in the year 2022 is at the tipping point of digitalization, and "Yes", it could be argued that 2022 is the "digital year" for construction professionals, but it may be more appropriate to term it as such in two, or three years, time.
Now, the industry has made some giant strides forward with its use of technology, all through having to work remotely with our clients, design teams, and the supply chain. Through this intense use of technology for communication, collaboration, and coordination, it has naturally accelerated constructions' learning and utilization of technology.
This leads me to say that structural empowerment should be promoted and encouraged within the construction sector, to enable work environments to provide employees with access to information, resources, support, and the opportunity to learn and develop remotely.
Question 2: The construction industry has undergone dynamic changes over the years. What do you consider as the biggest challenge for this industry now?
Creating a healthier, greener and safer built environment, against the current backdrop of a world slowly and nervously coming out of a pandemic, is a mighty challenge.
With the very real necessity to meet the targets being set for 'NetZero', which in turn requires us to radically improve our approach to whole-life value, plus undertake the construction process way more efficiently and effectively, thus reducing the necessity for re-work, which is commonly quoted as being 5% of the project's value, the use of BIM throughout a facility's life cycle shall need to be realized.
If we take it that BIM enables us to construct a facility digitally before we make a solitary mark on the site, then by fully utilizing BIM for a project's planning and quality control, the construction phase can be faster, and also create a safer and healthier work environment, which subsequently will be "greener".
Hence, we shall see the proliferation of digital twins, an exact digital replica of a construction project, and subsequently the realized built asset. These Digital twins, which in effect are 'Data Twins' or 'Next-generation as-built drawings', are a data resource that will improve the design of new assets and understanding of existing asset condition, verify the as-built situation, run 'what if' simulations and scenarios, or provide a digital snapshot for future works.
Question 3: What potential do you see in the latest construction technology trends? Are they capable of boosting the productivity of construction professionals?
I've been blown away by recently being introduced to a reality analysis platform. This can reduce costly rework by detecting mistakes and taking immediate action, all through transforming the BIM into an official system of record, and take project insights to the next level with automated progress and earned value tracking.
Recently I've been working alongside a multinational company's People, Performance, Development business line. It has entered the construction sector through the technology behind their platform and app, because it measures participation, feedback, and also enables direct communication with the participants.
Alongside this is some remarkable work in digitizing 'Last Planner', to enable remote collaboration.I love it!
Question 4: Where do you see the construction industry in the next five years? Please share your valuable insights with our readers.
Due not only to hit NetZero targets, but also because of an aging workforce and lack of new entrants to the sector, the industry will start to move away from the reliance on high levels of manual labor, and adapt the advancement that has been made in robotics and automation in the automotive sector, over the last decade, to design and construct far more modularised facilities. This shall lead to more off-site manufacture and a greater use of technology across the design and construction phases of a faculty.
Such a trajectory will mean that new roles will have to be created, and new learning and development skills required for these new roles. The project orientation of the construction sector; with its widely dispersed and transient management teams and workforce, plus of course its laser like focus on productivity, means it is well suited to the flexibility of the Digital delivery of Training Courses, and Leadership Development Programs. Hence, such digital delivery shall ramp up sharply over the next five years, to the extent it shall become the norm.
Get to Know Our Influencer
In four words or less, what's your prediction about the transforming construction industry?
To coin the phrase derived from Charles Duhigg's bestselling book, I predict it shall be, "SMARTER, FASTER, BETTER."
What's your success mantra?
I was blown away by Helen Keller's quote and it is now my mantra for success: - "Only through experience of trial and suffering can the soul be strengthened, ambition inspired, and success achieved."
More Details
Elvin works as an instrumental in building the confidence of construction professionals to devise effective strategies. He offers various courses related to the construction business, whether commercial, residential, or technological innovation.