In Discussion with Daniel Small for Understanding Construction Technology Expertly
Construction technology has evolved like never before. Especially, after the pandemic construction industry is actually pacing to adopt the latest tools and upgrading its methodologies. This has enabled construction professionals to overcome challenges and thrive in the market.
So, team ProjectPro interviewed Daniel Small to spot the light on growing technologies in the market.
Let's dive into this blog and understand his perspective on the latest technologies available for the construction industry: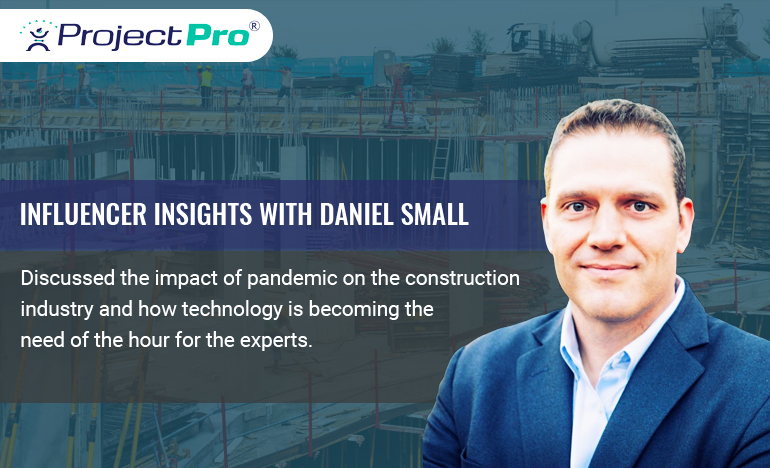 Who Did We Interview?
Daniel Small is a well-known construction consultant helping small to mid-sized businesses through process optimization and structured innovation. He has consulted extensive construction companies and assisted them to adopt tools smartly.
Let Us Quickly Get To Our Expert's Point Of View.
Question 1: In the age of COVID-19, how do you see the construction industry in the year 2022? Do you think this year will be a "digital year" for construction professionals?
COVID-19 has dramatically accelerated the transformation of the construction industry that has been under way for several years. The pandemic has further exposed and exacerbated some key weaknesses in the industry: Fragmented supply chains have been further strained, skilled labor supply has been devastated, and material prices have been thrown into disarray. These trends will force construction industry stakeholders to find answers more quickly to these age-old inefficiencies in order to survive going forward.
Question 2: The construction industry has undergone dynamic changes over the years. What do you consider as the biggest challenge for this industry now?
The biggest challenge I see for the industry is making the tough decisions and investments required to continue to meet the world's ever-changing building needs. We must find and perfect innovative ways to affordably build faster and better with fewer resources than we ever have before.
Question 3: What potential do you see in the latest construction technology trends? Are they capable of boosting productivity of construction professionals?
Today's technology, from advanced software and AI to robotics, drones, and augmented reality, holds great promise to help us boost productivity. Unfortunately, many construction companies are using technology as a crutch, or a substitute for true innovation or process optimization. Technology of any kind should be used to accelerate solid, optimized processes, not to try and avoid optimizing our processes.
Question 4: Where do you see the construction industry in the next five years? Please share your valuable insights with our readers.
In the next five years, continued market forces and trends will continue to force learning and advancement in productization, standardization, industrialization, and optimization of our building practices. Firms that embrace these advancements and proactively adopt them will thrive and grow. Those that refuse to evolve will fade into irrelevance and eventually die.
Get to know Our Influencer
In four words or less, what's your prediction about the transforming construction industry?
industrialized construction
What's your success mantra?
Innovate or Die
More Details
Daniel Small has 20+ years of experience in the building products and construction space, in companies of all sizes. He is focused mainly on partnering with companies in the offsite construction value chain (e.g., building product/materials manufacturers, modular manufacturers, panelizers, and prefabbing trade contractors) for delivering excellence.