In Conversation with Christopher Randall to Understand his Perspective on Construction Technology
The construction industry is undergoing an immense transformation after the pandemic. Earlier, adopting new technologies was a nightmare for construction companies and so it was the least technologically adopted industry. However, the pandemic greatly transformed this aspect.
To understand how construction technology is revolutionizing and delivering excellent solutions, we interviewed Christopher Randall.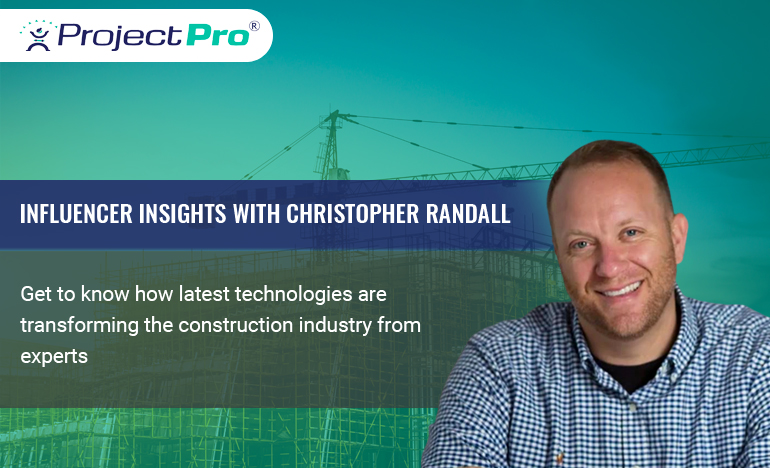 Who Did We Interview?
Christopher Randall is the Senior Project Manager at Patricia Electric, Inc. & Top Construction Project Management Instructor on LinkedIn Learning. He has over 30 years of experience in the electrical construction industry. He has masterfully executed the positions of estimator, project manager, service manager and logistics manager.
Let Us Quickly Get To Our Expert's Point Of View.
Question 1: In the age of COVID-19, how do you see the construction industry in the year 2022? Do you think this year will be a "digital year" for construction professionals?
Construction continues to change at a rapid pace…"digital creep" still has its roadblock connecting job sites to the respective managers and head offices.
Question 2: The construction industry has undergone dynamic changes over the years. What do you consider as the biggest challenge for this industry now?
The amount of administrative and "back office" work in proportion to direct labor hours on a project continues to increase and become a hindrance to medium and small contractors, ultimately driving up the price. Additionally, there's a shortage of trained, skilled workers.
Question 3: What potential do you see in the latest construction technology trends? Are they capable of boosting the productivity of construction professionals?
New tool and equipment technologies continue to emerge, saving contractors time and preserving profit.
Question 4: Where do you see the construction industry in the next five years? Please share your valuable insights with our readers.
Construction will have some pain as it relates to an economic downturn. Contractors will have to shift their focus from new construction to renovation service and maintenance to stay busy.
Educational opportunities for construction management professionals as well as skilled trade workers will shift from traditional classroom and college-type courses to online and smaller fractional-type offerings.
Get to Know Our Influencer
Question 5: In four words or less, what's your prediction about the transforming construction industry?
Continue educating everyone
Question 6: What's your success mantra?
Love what "we" do
More Details
Christopher Randall is constantly expanding his knowledge though continuous educational classes, seminars and other related coursework. He is an author and instructor of construction, estimating and construction management content for Lynda.com and LinkedIn Learning. His instructional videos are viewed and used by construction managers and executives worldwide.