Construction Technology Expert Ayad Chammas Talks About the Digital Evolution in the Construction Industry
As we step into the year 2023, the construction industry finds itself at the cusp of a profound digital transformation.
With emerging technologies like IoT devices, drones, and augmented reality becoming integral to construction processes, it's evident that this year holds the promise of being a "digital year" for construction professionals.
In this exclusive interview, we have the privilege of speaking with a seasoned expert, Ayad Chammas in the field to gain valuable insights into the current landscape and future prospects of the construction industry.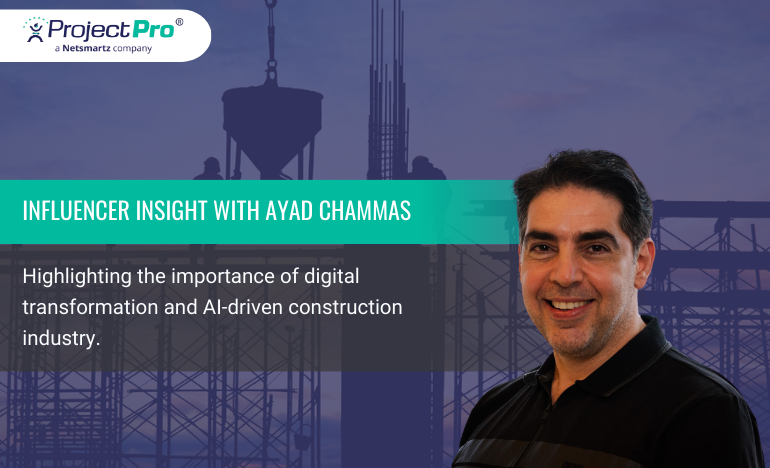 Who Did We Interview?
Ayad is an angel investor and is on the board of directors of various startups in EV, PV, fintech, and Data management. He served as an executive at multinational infrastructure companies based in the GCC, MENA, and the far east.
With a Global experience of 30 years in Construction and the delivery of EPC and BOT mega projects, Ayad is a Construction Technology expert with expertise in Digital Transformation on remote construction projects. He is a partner in the Contech-focused VC firm Nirman Ventures.
Let Us Quickly Get To Our Expert's Point Of View.
Question 1: How do you see the construction industry in the year 2023? Do you think this year will be a "digital year" for construction professionals?
In 2023, the construction industry is poised for significant digital transformation. Emerging technologies like IoT devices, drones, and augmented reality are becoming mainstream tools. Not to mention the entry of AI into the data ecosystem, and construction companies with long-term plans have done quite a lot of data preparation for the next 10 years. This year is indeed a "digital year" for construction professionals.
Question 2: The construction industry has undergone dynamic changes over the years. What do you consider the biggest challenge for this industry now?
The most significant challenge facing the construction industry today is, in my opinion, twofold. First is growing environmental concerns. Construction professionals must find ways to reduce the industry's carbon emissions, minimize waste, and adopt more eco-friendly construction practices.
Second, balancing sustainability with traditional cost and time constraints is a complex challenge that the industry must address to remain competitive and cope with the inflation hitting all sectors globally. The construction industry is very sensitive to inflation, and often, companies face severe economic pressure due to the failure of a single project.
Question 3: What potential do you see in the latest construction technology trends? Are they capable of boosting the productivity of construction professionals?
The latest construction technology trends, such as robotics, AI-powered project management, and modular construction, have immense potential to boost productivity. They enhance accuracy, reduce labor-intensive tasks, and optimize resource allocation. By integrating these technologies, construction professionals can streamline operations, improve safety, and deliver projects more efficiently.
The key word here is Data; for automation and AI to work, they need a well-structured data set. And this is something that- to date- machines have not learned how to do. The industry has to rely on its expertise to build it up.
A report by McKinsey & Company suggests that the construction industry needs to evolve and change to improve productivity by 50 to 60 percent and deliver $1.6 trillion a year in incremental global value
Question 4: Where do you see the construction industry in the next five years? Please share your valuable insights with our readers.
Over the next five years, the construction industry will continue its digital evolution. We can expect widespread adoption of AI-driven analytics for predictive maintenance, further advancements in sustainable building practices, and an increasing emphasis on smart and connected construction sites. We'll also witness the adoption of new positions in the construction industry, such as "data manager/analyst/assurance specialist", "Robotics technician," and "digital security specialist."
Additionally, the industry will likely see an emphasis on safety technology and the adoption of wearables in their construction methods to meet the growing demand for sustainable and cost-effective building solutions.
Get to Know Our Influencer
Question 5: In four words or less, what's your prediction about the transforming construction industry?
"Innovation reshaping construction."
Question 6: What's your success mantra?
"Continuous learning and adaptability."
More Details
Ayad Chammas' steadfast support for artificial intelligence in the building is at the core of his devotion. He is actively involved in working with innovative businesses in this sector, where he contributes his knowledge and insights to push breakthroughs in construction technology, embracing the promise of AI to disrupt the industry.