In Conversation with Allan Langer for Construction Technology
It's been a decade since construction technology has driven the construction industry toward more innovative practices and efficient processes. According to experts, along with the emergence of AI, big data analytics, cloud solutions, and other tools, the construction software market will also surpass the US $2.7 billion by 2023.
So, digital transformation is at its peak and has helped vital industry players to shift from manual spreadsheets and paper processes to automated and combined systems. This is why ProjectPro interviewed Allan Langer, a renowned coach for construction professionals, to understand his perspective on the same.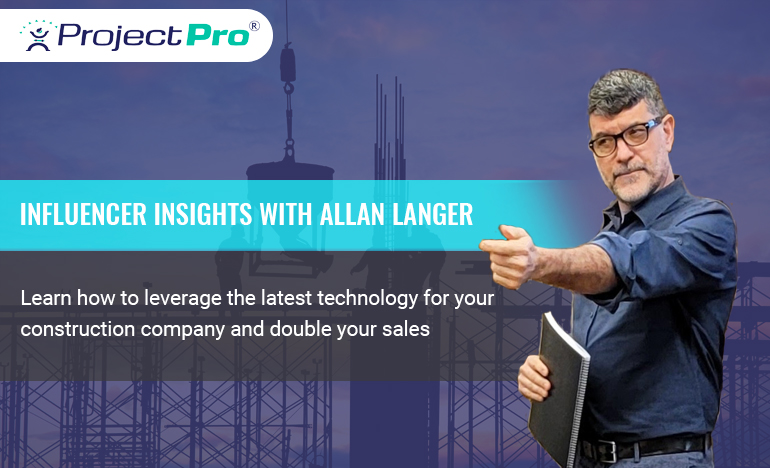 Who Did We Interview?
Allan Langer is the best coach and trainer for construction professionals offering customized programs for team development, sales improvement, and evaluation and consultation. He helped various construction companies to push them to achieve their business goals.
Let Us Quickly Get To Our Expert's Point Of View.
Question 1: In the age of COVID-19, how do you see the construction industry in the year 2022? Do you think this year will be a "digital year" for construction professionals?
I think this year will continue to be a boom for the construction industry, with many homeowners doing work. However, due to the inflation numbers and the rising cost of living, consumers will be much more discerning on who they hire and give their money to. So professionalism and a great online presence will be paramount.
Question 2: The construction industry has undergone dynamic changes over the years. What do you consider as the biggest challenge for this industry now?
The perception is still one of the biggest hurdles contractors have to overcome, much like salespeople. When people set an appointment with a contractor, they are expecting the "pick up truck, Chuck" guy showing up, not professional, quote on a business card, etc. It's the contractor that is the opposite of this - clean, professional, courteous, honest, that will win most jobs, even at higher costs.
Question 3: What potential do you see in the latest construction technology trends? Are they capable of boosting the productivity of construction professionals?
I have seen first hand the evolution of technology and how it has helped the construction industry, not only land more jobs, but improve estimating, cost evaluations, trust with homeowners and enbd-users. And I see this continuing to advance to amazing levels in the future. For example, a contractor no longer has to show a sample of siding or roofing and say "imagine what your house will look like." They now can simply show a picture of the customer's house with that product already on it, because of the software available.
Question 4: Where do you see the construction industry in the next five years? Please share your valuable insights with our readers.
Well, since I am a sales and marketing expert in the construction industry, I am always looking at things through this lens. And what I see continuing to become essential in the industry when it comes to presenting to homeowners is the ability to be professional, clean and upfront/honest.
More and more people are going to hire contractors, not on price, but on trust, feeling, and online reviews. I saw recently that 94% of all shopping and service-related purchases start online. If contractors don't have a professional social media presence, backed up by solid reviews (4.5 stars and up), they are simply not going to get hired.
Get to Know Our Influencer
In four words or less, what's your prediction about the transforming construction industry?
Google reviews are everything
What's your success mantra?
My success mantra hangs on my wall: "Failure is not an option."
When I began my entrepreneurial journey, it's not for the faint of heart. I admire and appreciate and celebrate all the hardworking, well-meaning people out there trying and succeeding at their own gig, their own business. It's not easy. It's pressure, sleepless nights, stress, doubt, all of it.
But I always go back to the reasons why I wanted to do this in the first place, and I kept going, pushing through, always telling myself that failure was simply not a choice that was available. And it worked. So my advice to anyone doing this is to always evaluate and ask yourself these two questions on a daily basis:
What would you like your legacy to be? and
What is the right thing to do, right now, at this moment?
More Details
Allan helps you and your team with a unique, hybrid sales training methodology, customized workshops, seminars, courses, training days, or individual coaching packages that focus not only on how to increase your sales numbers, but these many other critical metrics of success:
Pricing strategies
Proposal writing
Referral strategies
Body language in sales
Follow-up sequences and strategies
Improving testimonials that will lead to more business
How to sell without feeling like a salesperson
Customer service