In Conversation with Adam Bean for Understanding the Impact of Digitalization in Construction
Is your construction business lacking operational efficiencies and labor shortages? If that's the case, then it's time to embrace the latest construction technologies in your business. Automating your operations to achieve a streamlined workflow has become the need of the hour. You will get hundreds of articles emphasizing the growing technology in construction.
But would you like to hear it from real construction professionals? We've got you covered. ProjectPro introduces another influencer to understand his take on technology and why you should adopt them.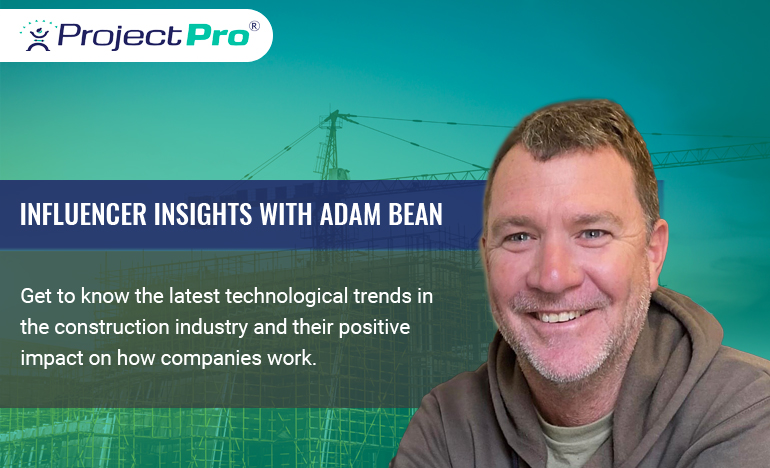 Who Did We Interview?
Adam Bean is working as a project manager in one of the renowned fabricating construction companies. He is also a speaker who usually talks about innovations, leadership, and other subjects to help fellow construction experts make better decisions.
Let Us Quickly Get To Our Expert's Point Of View.
Question 1: In the age of COVID-19, how do you see the construction industry in the year 2022? Do you think this year will be a "digital year" for construction professionals?
This is going to sound a little bit negative, but my short answer to that question is no.
When you talk about transformation or adopting new technologies (which the construction industry is notoriously slow to do), you must look at what has to happen fundamentally for that change to occur.
What must happen is people's habits have to change, and that doesn't happen quickly (it takes on average 60 – 65 days to create a new habit). Yes, COVID backed the construction industry into a corner and forced a more rapid adaptation of Digital tools, but that adaption has been short-lived, and people have gone back to business as usual the way it was done before COVID, which I believe is a major step backward for the industry.
There's a great quote from one of my Mentor's "Adapt or Die" Barry Bull While we still cling to outdated planning tools like the Gantt chart, which are a WW2 relic, the industry is headed for trouble.
Question 2: The construction industry has undergone dynamic changes over the years. What do you consider the biggest challenge for this industry now?
There are a lot of talks right now about labor shortages. And this is going to sound a little controversial, but the perceived labor shortage is not the real problem.
The real problem is a very poor use of the available resources that we currently have.
As an apprentice, I spent part of my time working for my father who used to have a saying that at the time drove me crazy, but it speaks straight to the heart of the issue that the construction industry faces.
Whenever we asked for more people, tools, resources, etc he would always reply, "You're not using what you've got properly yet" Ian Bean The construction industry is not using the resources that we have available to us (including labor) anywhere near as effectively as we should be.
Question 3: What potential do you see in the latest construction technology trends? Are they capable of boosting the productivity of construction professionals?
The tools are great (especially some of the stuff coming through in the 3D scanning, AI, AR, and VR space), but they boost productivity and emphasize needs that should be a focus and a shift in teaching people how to use these tools effectively.
The tools that we now have at our disposal are a two-edged sword both able to boost productivity and drive distraction (kill productivity). Again, I come back to habits.
If we don't teach people the basics of how to work productively first (which, as an industry, we've done a very poor job), the tools aren't going to fix the problem; they're going to make it worse.
Question 4: Where do you see the construction industry in the next five years? Please share your valuable insights with our readers.
The way I see it, we'll be in 1 of 2 places in five years' time…
1. We continue doing what we're currently doing which will be disastrous.
2. We fix the fundamental problems (habits) with tools like 2-second lean, and we become the leading global benchmark in an industry full of world-class problem solvers.
Moreover, there will be more reliance on prefabrication and module construction. This is one way to have more control over the risk created by uncertainty in the supply chain.
Get to Know Our Influencer
Question 5: In four words or less, what's your prediction about the transforming construction industry?
Habits must change!.
Question 6: What's your success mantra?
This one is easy; it comes from the late, great Kobe Bryant
"The Mamba Mentality it's a way of life, it's not an attitude Persea, it's the way you live.
It's trying to get better every single day.
It's not something where you live with bravado or anything like that.
It's just the simplest form of trying to get better at whatever it is that you're doing"
More Details
Adam Bean has an extensive skills set that include project management, change management, marketing strategy as well as process improvement that makes him an ideal construction professional. His coaching skills has enabled him to guide and motivate peer construction experts.