Mohammed Basiony, Construction Management Expert take on Construction Technology
To keep up with the increasing pressure in the competitive landscape, construction companies are leaning towards embracing new technologies. Today a growing number of construction companies are keen on technology uptake to bring projects to light and augment repetitive tasks with automation to stay ahead of the competition.
In today's chapter, we will talk to a specialist in Construction Engineering & someone who is also endorsed as a Construction Management Expert, Mohammed Basiony on how construction technology will help professionals embrace the 'next normal' in construction, and how technologies like BIM, drones, green buildings & AI will change the construction landscape as we know it.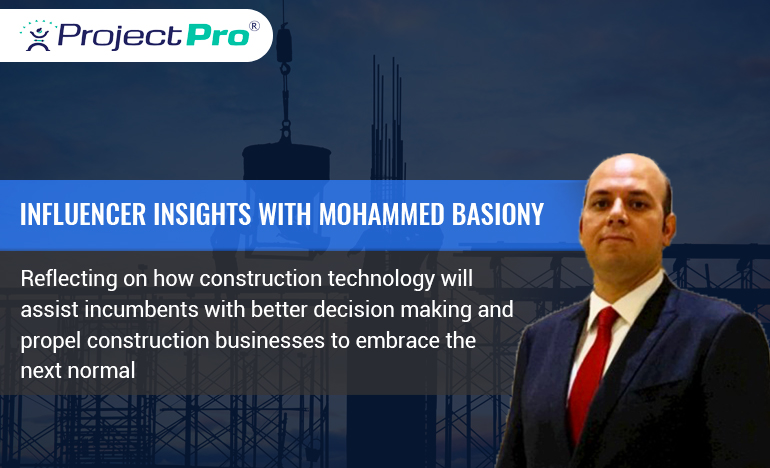 Who Did We Interview?
Mohammed Basiony is the CEO & Construction Management Expert, who can help both creatively and logically to resolve design and development problems where construction is concerned.
His hands-on approach to make sure that the project runs smoothly and that the structure is completed on time and within budget has earned him the highest recommendations
Let Us Quickly Get To Our Expert's Point Of View.
Question 1: What projects/initiatives are you working on at the moment?
I am currently in-between many construction projects related to hotel, villas, commercial & residential buildings and more.
Question 2: According to you, what Construction Technology and Management Trends could make the maximum Impact on the Industry in 2022? How Technology Will Enable Construction Continuity in 2022?
I believe that the following technologies and management trends shall have its significant influence on the construction sector:
Building Information Modeling
Artificial Intelligence
Drones
Green Building& Renewable energy sources
At the same time, technology will assist with better decision-making and will continue to propel construction businesses into the future.This will ensure construction continuity in 2021 and beyond.
Question 3: What potential do you see in construction technology for leveraging overall business productivity with construction projects, especially when we talk about recovery and growth after the pandemic?
Construction will surely look different after COVID-19 and will put humans at the center to make a positive impact on communities across the world. Construction technology will help in achieving greater productivity and in reducing risk and improving decision making with data.
Construction technology will also continue to be a big influence over the recovery and future of the construction industry post-covid also.
Using artificial intelligence, big data, robotics and the Internet of Things (IoT), has also improved the design and production process. The construction process with the help of technology can further transform the building sector. This means decisions and commitments can be made earlier, which will speed up the construction process and will have a lasting impact after the pandemic ends.
Question 4: Do you believe COVID-19 has turned out to be the Catalyst for Digital Adoption? Do you think the trend will sustain once the pandemic ends?
The pandemic has significantly accelerated the adoption of digital products and services as numerous construction firms adopted digital business models to maintain operations and revenue flows. Post COVID-19 and to navigate the 'next normal', converting information from a physical format to a digital one will be necessary for construction firms.
Construction companies must familiarize themselves with the course of the next normal to successfully ride the wave. By embracing construction technology incumbents can:
Mitigate Uncertainty to Achieve Project Goals
Customer-Centricity & Branding
Improve Communication & Real-time Collaboration
Better Workflow & Document Tracking
Streamline Business & Operations
Shift to Cloud Technologies Specific to Construction
Digitization and streamlining of construction operations will continue even after the pandemic ends.
More Details
Mohammed Basiony is the CEO & Construction Management expert who is leading the construction team and liaising as owner with operators and contractors. He proudly manages the assigned projects with project time schedule and local cost budget.
He ensures timely and accurate internal project reporting and controlling while identifying and following up on new business opportunities with current business partners.