Chief Brand Officer, Anya Chrisanthon, Shares Her Opinion on the Latest Trends in the Construction Industry
As the construction industry is embracing the latest technologies, there are several challenges and motivations contractors are facing today. Whether it is related to pandemic, adoption of new tools or resource allocation, construction professionals have a tough time.
This is why we have taken the initiative to bring you valuable insights into the current technological trends in the construction industry. We interviewed Anya Chrisanthon, a leading Chief Brand Officer in one of the top-notch homebuilding tech companies to put some light on the growing technological trends.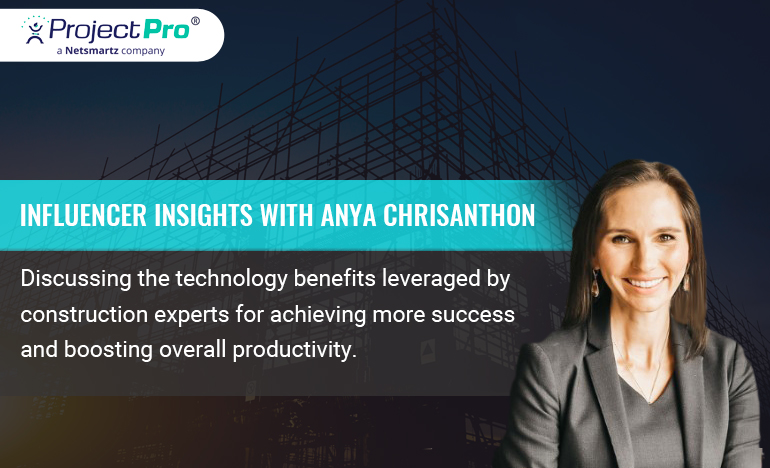 Who Did We Interview?
Anya Chrisanthon is a renowned and capable Chief Brand Officer in one of the best homebuilding tech companies. Her knowledge and experience in the construction technology allow clients to find, design, experience and buy new homes online seamlessly.
Let Us Quickly Get To Our Expert's Point Of View.
Question 1: In the age of COVID-19, how do you see the construction industry in the year 2022? Do you think this year will be a "digital year" for construction professionals?
Residential new construction faces a number of challenges in 2022 including supply chain issues, labor shortages, and affordability crisis. Global pandemic exacerbated existing conditions and pushed home builders to think outside the box and adopt new ways of doing business. Historically we've been a conservative industry-typically last to embrace change, but difficult circumstances can lead to greatest innovations.
I am excited for the future of residential new construction. We've settled for a mere 15% of the real estate market for far too long. Technological innovation will make new homes more attractive in terms of both how they're built and sold, making them accessible to more people. It lights me up when I read about companies like Lennar partnering with Icon to build a first of its kind 3D printed home community in Austin, TX this year. Builders are exploring alternative green and sustainable materials and buyers want that.
Question 2: The construction industry has undergone dynamic changes over the years. What do you consider as the biggest challenge for this industry now?
The biggest challenge is to be able to provide that new home building experience that many customers come to expect-the HGTV experience. There is a lot of uncertainty right now when it comes to both availability and pricing of materials while demand for housing is at an all time high. There is a high potential for a poor customer experience if they're not being communicated to on a consistent basis.
Question 3: What potential do you see in the latest construction technology trends? Are they capable of boosting productivity of construction professionals?
"Buy Now" has been one of the hottest topics of conversation in the last few months. Just like with any new technology or process there are a lot of misconceptions about what it is and what is not. The biggest one is that the "Buy Now" button eliminates the salesperson from the equation and takes the human element out of the sales process. It couldn't be less true. "Buy Now" is simply a tool that streamlines the sales process making it easier for both the salesperson and the buyer to design and visualize their new home. It can be used by buyers independently, but I think most will use it in-sync with their sales person so everyone is always on the same page.
Question 4: Where do you see the construction industry in the next five years? Please share your valuable insights with our readers.
We are on an exponential technological growth curve. The next five years will be nothing like the last five-technological innovation will move faster and faster. We have a huge housing shortage to fill-and we need to do it sustainably and affordably. And I think we're up for that challenge!
Get to Know Our Influencer
In four words or less, what's your prediction about the transforming construction industry?
Robots are coming!
What's your success mantra?
You may be scared, but do it anyway.
More Details
Anya Chrisanthon, a Chief Brand Officer at a leading homebuilding tech company helps to improve the way customers find, design, experience and buy new homes online.
Anewgo of New Home Sales-a weekly webcast/podcast for the company, she discusses innovative sales and marketing technologies that are growing in popularity in new home sales.
She highlights new systems, processes and techniques as well as shares best practices, case studies, tactics and strategies so that one can successfully incorporate MarTech into your sales cycle.